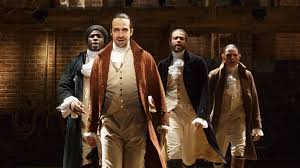 When you first hear the name Hamilton you might think of the play on Broadway. The play is about Alexander Hamilton, a part of the American Revolution. He was a founding father and the first Secretary of the U. S. Treasury. Not only was he a founding father, but he was also a banker, a lawyer, and fought in the war. He was born in January 1755 and died in July of 1804. There was a play made after him by actor and writer, Lin-Manuel Miranda.
The award-winning singer, songwriter, actor, and screenwriter Lin Manuel Miranda's play, Hamilton debuted in 2015 and quickly became the most sought after ticket on Broadway.
Hamilton tells the story of one of the U.S. founding fathers, Alexander Hamilton in an entertaining way. The critically acclaimed play is sung & rapped by performers such as Johnathan Groff, Daveed Digs, Leslie Odem Jr. & Lin Manuel Miranda himself. Miranda wrote the script and composed the songs for this Broadway phenomenon.
Therefore, in honor of this award-winning soundtrack, here are our top 10 tracks from the Hamilton soundtrack.
Satisfied
The Battle of Yorktown
My Shot
The Room Where It Happens
Wait For It
Guns & Ships
The Schuyler Sisters
Non-Stop
Favorite line: Why do you write like you're running out of time? Write day and night like you're running out of time? Every day you fight, like you're running out of time Keep on fighting, in the meantime- (Non-stop!)
Alexander Hamilton
Favorite line: Well, the word got around, they said, this kid is insane, man. Took up a collection just to send him to the mainland. Get your education, don't forget from whence you came. And the world is gonna know your name
You'll Be Back                                                                                                Favorite line: Cuz when push comes to shove, I will kill your friends & family to remind you of my love.