Alumni Spotlight!
Carina Wong-Schultz, Editor
April 4, 2019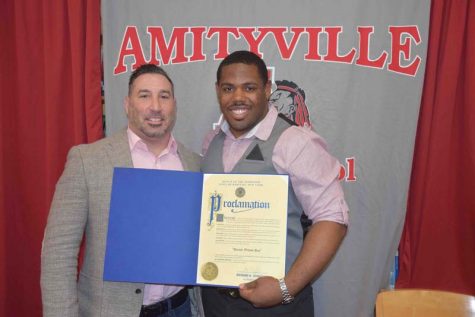 Deonte Wilson, a 2018 graduate from Amityville Memorial High School, competed in a high-stakes wrestling tournament on March 8, 2019. Deonte, a state champion wrestler at 285 pounds, had a 31-2 record last year. He attends North Carolina State University and recently traveled to Blacksburg, Virginia to compete in the 2019 ACC Championship. This was Deonte's first ACC tournament as a freshman, and just a week earlier he landed a 5-1 win at the National Collegiate Open!
At the ACC tournament, Deonte went 5-2 and placed 4th which is extremely good for his first time at the championship tournament. Wilson was just one win away from going to the NCAA Championship, which is the top organization for college athletes. Deonte was quoted as saying, "I lost to the top guys in the country, but we won as a team. I'm glad I contributed." Deonte not only showed sportsmanship, but he was happy for his teammates. That's the Warrior Pride in action! CONGRATS, DEONTE! We're proud of you!