McCartney III Album Review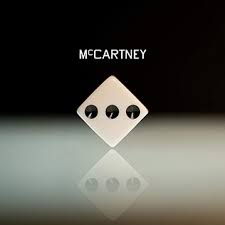 Who is Paul McCartney?
Somehow, somewhere, there are some people who don't know who Paul McCartney or the Beatles are. If you are one of those people, I'll briefly inform you before getting into this review. Paul McCartney was one of the front-men and members of the Beatles, one of the greatest bands to walk the Earth. They originated from England officially in 1962 with their first album, "Please Please Me," and have been a cultural icon since then. Their first big boom was in 1964 with the start of Beatlemania with their first tours to America, gaining international stardom. They had a popular "rivalry" with the Rolling Stones (although the two bands exchanged songs and assisted each other in recording music). They then hit a psychedelic turn with their 1966 album "Revolver" and  created one of the most popular albums of all time, "Sgt. Pepper's Lonely Hearts Club Band." This is where they hit their psychedelic stride and started creating masterpiece after masterpiece. Soon after, they created an animated movie in 1968 called "Yellow Submarine," with an album of the same name releasing alongside the movie. In 1969, they then released their final masterpiece before the slight let-down that was their final album, "Let It Be." Their final masterpiece was "Abbey Road," with great songs such as "Here Comes The Sun," "Come Together," "Something," and their medley at the end of their B-side. After this album released, they had already recorded their final album and then  broke up shortly after its commercial release. Only ten years later, John Lennon was shot dead and in 2001 George Harrison died of lung cancer. Ringo Starr and Paul McCartney are the only remaining members, but Paul is truly carrying the legacy on his shoulders. This new album is a great example of that.
Album Review
This album is almost like a tribute to the Beatles and Paul's 70's career. It sounds like something the Beatles would produce in the final half of their career. It is truly a great listen if you want a throwback to the early McCartney solo era of music. To name its genre, it is a mix of rock, folk, experimental, and is slightly poppy. Just like in his early career, Paul's music cannot be defined by clear genres. The album starts and ends with the two very folk-like tracks, ¨Long Tailed Winter Bird," and 'Winter Bird/When Winter Comes," which can easily be marked as a callback to the Beatles song ¨Norwegian Wood¨ from their album "Rubber Soul" due to its folkish sound. The album then gets very experimental with songs like "Deep Down," and the whopping eight-minute track, "Deep Deep Feeling' with a whole 40 guitar tracks being recorded for this uncut experimental jam session. This track is the one that stands out, as it is the most experimental and longest, but I personally felt it would have been better if it wasn't dragged out for eight minutes. Five minutes would have been just fine. There are also softer songs that appear on the album like 'Pretty Boys" with an almost country-like influence, the piano ballad "Women and Wives," and the soft guitar track "The Kiss of Venus" nearing the end of the album. Lastly, the rock and pop portion of the album consists of the songs "Slidin'," which is an especially heavy song, especially for someone like Paul McCartney, and "Lavatory Lil" which has elements of classic 50s rock and blues guitar hooks. There are is also the pop song "Find My Way" with its mix of piano, acoustic, and electric guitar creating a very poppy and catchy Beatles-esque song. "Seize The Day" also captures the poppy sound of the 60s with its initial piano sound transforming into an electric guitar hook that lasts throughout the song. All these vaguely different genres meld together really well to create a recognizable and nostalgic sound that many Beatles fans have been longing for (such as myself). I have to say, this is probably Paul McCartney's best album in terms of diversity, musicianship, and songwriting ability. He kept it simple like how he did in the 70s, and that heavily aided in this album becoming as great as it is. Also, compared to other newer McCartney albums, his older voice doesn't bleed out as much in this album. I do not know if it was the superb mixing of the album or him finally mastering his gritty voice, but he has made his older voice as listenable as his 60s voice now.
The Verdict
Many artists from the 60s and 70s have turned old and are pumping out music only because they have nothing better to do. Paul McCartney is an exception. Although he is the richest rock-star, he is pumping out the music that took the most effort, and the sound of this album shows it. Compared to Bob Dylan or Robert Plant, McCartney's music has aged surprisingly well, but he has hit a new stride with this album. It is definitely a good album to listen to if you are looking for variety in a single album and have a good 45 minutes to spend, especially from this legend who is now 80 years old. I give this album an 8.5/10.