Remembering Eddie Van Halen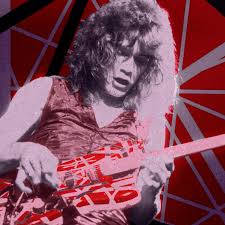 Impact and Fame
Eddie Van Halen was the lead guitarist, backup singer, and founder of the hard rock band called "Van Halen," formed in 1974. Van Halen is one of the most influential bands of all time, being regarded as one of the early leading figures in the hard rock genre of the 1970s and 1980s. Many songs are recognizable within the first few seconds including songs such as "Jump," "Panama," their cover of The Kinks song "You Really Got Me," and Eddie's extraordinary guitar solo, "Eruption." He not only changed the rock scene as a whole, but also influenced styles and techniques on a guitar that no one has witnessed in the history of rock. His finger tapping style was the predominant characteristic of the band's sound and was a footnote in the evolution of guitar playing. Not even the likes of Brian May or Angus Young were as influential as his guitar playing skills were. They walked in a fine line between being considered metal and pop, which was an impressive feat many top bands at the time could not accomplish with their own style and sound. They could not be categorized into one sub-genre of rock which shows how unique and distinct their sound and style of music is. Only a few other bands like The Beatles and Queen could do such a thing, which shows how much Van Halen shined during the 70s and especially the 80s when rock was starting to be considered an old art of those in the past generation.
A Quick History of the Band
Eddie Van Halen's youth consisted of the practice of classical music in the town of Pasadena, California. He and his brother Alex switched from learning classical piano to guitar and drums (his brother co-founded the band with him, acting as the lead drummer for the band). Before Van Halen was a thing though, they formed a small group called "Mammoth" in their teen years. Years later though, they met up with David Lee Roth (who is now the lead singer of the band) and Michael Anthony (who is now the bassist). Early on, they were not as well known, but thanks to the "Kiss" bassist Gene Simmons, he funded their recorded sessions which allowed them to record their first album, which was a smash hit that reached platinum status within half a year of its release. Years into the band's success in the 80s, they were one of the most known bands in the world and were doing financially amazing. Their unity did not last long though, as in the mid-80s, lead singer David Lee Roth left the band to pursue his solo career with his own upbeat and theater-like music. To replace him, they hired Sammy Hagar, a famous singer-songwriter who originally was with the band "Montrose," but then moved on to have a prolific and successful solo career, and then soon joined Van Halen due to Eddie's interest in his former band and because of the suggestion his mechanic gave him about Hagar. Van Halen then moved to a more heavy and serious tone, which many did not favor compared to the David Lee Roth era of jumpy and energetic upbeat songs. He then left the band in the year 1996 because of tensions between him and Eddie (he rejoined for a year to tour but then left again).
The 2000s
Jump to the year 2000. Eddie Van Halen has been diagnosed with tongue cancer, which meant he had to get about ⅓ of his tongue removed, but little did they know that it was too late. Many believe his heavy drinking and smoking led to his case of tongue cancer, but he believes it was his constant holding of metal picks in his mouth that attributed to this disease, as he stated he held the pick in the same place where he got cancer in his tongue. This eventually led to him battling throat cancer due to the rapid spread from his tongue. Throughout the 2010s he has been facing his cancer while touring, which has not done any good on his body. He stopped touring after his last 2015 tour, but his body was already weak enough by then. 5 years later, on October 6th, 2020, his long battle with chancer has finally ended with him sadly passing away with an accumulated net worth of over 100 million dollars. His famous red and white-striped "Frankenstrat" guitar that is an icon of the band has been last seen in the Metropolitan Museum of Art in 2019 and copies have been made and stored in the National Museum of American History and the Smithsonian Institution in Washington D.C. To say he impacted to rock industry and the world music industry as a whole is an understatement. He was truly one of the greatest there was.