Daft Punk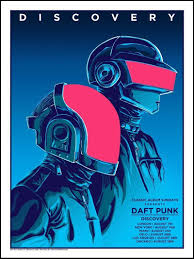 Daft Punk was a musical duo who were known for their electronic/house roots but soon spread to merging genres, emerging as ¨heroes¨ in the music industry. They announced their retirement on February 22nd of this year, so it would do justice to detail the legacy of this band.
BIOGRAPHY
Daft Punk had little history before their union in 1993 after their former band ¨Darlin¨ disbanded. Daft Punk was a French electronic band made up of two people: Guy-Manuel De Homem-Christo and Thomas Bangalter. They had their first major hit in 1995 named ¨Da Funk¨ (which is my personal favorite Daft Punk song) and after a record dispute, made their first album named ¨Homework¨ in 1997 under ¨Virgin Records¨. It was a major breakthrough for the duo, shooting them into the mainstream of house and electronic music of the mid and late 90s. Their futuristic sound was eerily unique at the time, as no one could match it (other than their predecessors, which I will get to). After four long years of waiting, the band then releases their next album to the public named ¨Discovery¨, which might arguably be their most memorable album with such hits like ¨Harder, Better, Faster, Stronger¨, ¨Aerodynamic¨, ¨One More Time¨, and ¨Digital Love¨. Many of the music videos that released were made in an anime-like style, reminiscing of anime like ¨Akira¨ or ¨Cowboy Bebop¨, which were actually parts of an animated movie they released with these characters and scenes, serving as a visual companion for this album they released. After releasing a record of their live tour ¨Alive 1997¨ at the end of the year, there was another four-year wait until Daft Punk released another hit record named ¨Human After All¨ in 2005 with the hits ¨Robot Rock¨ and ¨Make Love¨. After releasing a compilation album in 2006 and a live album in 2007, the album ¨Discovery¨ won a grammy, along with the song ¨Harder Better Faster Stronger¨. After this, in 2010 the duo composed the soundtrack for the animated Disney movie ¨Tron: Legacy¨, which featured the duo in a cameo. After this, in 2013, the group released their final album ¨Random Acess Memories¨, their last major breakthrough before they stopped making albums and started doing features until their eventual break-up in 2021. By now, they were the heroes of modern music, so the album was received extremely well. Some hits that were included were ¨Get Lucky¨ featuring Pharell Williams and Nile Rodgers, ¨Instant Crush¨, and ¨Lose Yourself to Dance¨. This album sold extremely well, going platinum in under a year and winning three Grammies at the 56th Annual Grammy Awards. After this though, there was silence. Silence until 2016, when Daft Punk collaborated with The Weeknd on his commercially successful album ¨Starboy¨. They were featured in ¨I Feel It Coming¨ and a song of the same name as the album ¨Starboy¨, which was the number one hit of the album, reaching number 1 on the billboard top 100. This was Daft Punk´s last work, as after this there was silence until 2021 when the band announced their retirement.
INFLUENCES
Daft Punk had a variety of influences, both direct and indirect. They stated that a number of direct influences consisted of George Clinton, Dr. Dre, and house composers such as Paul Johnson and Todd Edwards. This is apparent, as their style of music is a blend of house, funk, and electronica (What these composers composed). Some indirect influences that HEAVILY affected the success of Daft Punk were bands such as the German-electronic band named ¨Kraftwerk¨, who was essentially Daft Punk of the 70s, introducing this type of electronic-pop into near-mainstream all the way back in the 70s. Depeche Mode was another influence, as their work with keyboards can be heard as the prehistoric development of what would come to be in Daft Punk´s iconic sound. Lastly, the lesser-known German-electronica band under the name of ¨Neu!¨ would play a big role in Daft Punk´s success, as they were essentially Kraftwerk but less experimental and more capable of producing classic dance-hits. Without them, Daft Punk would not be as clean and as listenable as they would be now, as Kraftwerk was a great band, but they got a little too experimental at times, which left a bad taste in the mouths of many avid music listeners in the 70s.
BEST HITS
The group has made many hits and songs that are ahead of their time, but I will name my 10 personal favorites from the bunch and what I would recommend a new Daft Punk listener to enjoy.
Da Funk (Homework, 1997)
Around the World (Homework, 1997)
Aerodynamic (Discovery, 2001)
One More Time (Discovery, 2001)
Veridis Quo (Discovery, 2001)
Robot Rock (Human After All, 2005)
Television Rules the Nation (Human After All, 2005)
Give Life Back To Music (Random Access Memories, 2013)
Giorgio by Moroder (Random Access Memories, 2013)
Lose Yourself to Dance (Random Access Memories, 2013)