Nirvana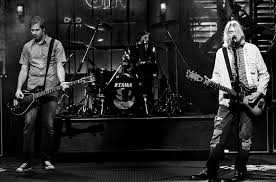 Nirvana has long been regarded as one of the greatest and most influential bands of all time and dubbed by many to be one of the kings of grunge (alongside other bands such as The Smashing Pumpkins, Pearl Jam, and Alice in Chains). They are known for such hits as "Smells Like Teen Spirit," "Come as You Are," "Heart-Shaped Box," and their live cover of the David Bowie song "The Man Who Sold the World."
This success was not long-term though, as after only 3 (studio) albums were released, Cobain died by suicide on April 5th, 1994. This caused the band to separate and started the downward spiral towards the end of the grunge era (which only shows how influential he was towards the genre.) Eight years later, the frontman of the band "Alice in Chains," Layne Staley, passed away in 2002, solidifying the end of the mainstream grunge phenomenon.
A Short Biography of Kurt Cobain
Kurt Cobain was born on Februrary 20th, 1967 in Aberdeen, Washington. He was an average boy until his parents divorced. When that happened, he became a troubled boy. All that trouble that he had pent up led to the musical genius he displayed as the frontman singer and lead guitarist for Nirvana. As he grew into his teenage years, he lived with relatives, outside on his own, started using drugs, and committed forms of petty illicit activities such as vandalism.
The Formation and Success of Nirvana
As Cobain grew older, music became more relevant in his life. As he joined small groups, he started to garner the attention of bassist Krist Novoselic and with the help of a fellow session drummer, the three of them created "Bleach", Nirvana's first album released in 1989. In 1990, drummer Dave Grohl joined the group as their permanent drummer and in 1991, they released their second album "Nevermind,¨ which became a cult classic among the grunge and rock populous of the early 90s. This album featured the song "Smells Like Teen Spirit¨, which is the song that shot the band into the mainstream audience. Cobain began to be revered as a sort of living god, which is something he never came to terms with and was always uncomfortable with. In 1992, Cobain married Courtney Love, the lead singer of the band called ¨Hole¨ and had a daughter named Frances Cobain. He also released the critically acclaimed album "In Utero" that same year, which ironically, was about Cobain hating his fame and the music industry as a whole. This album would become the final studio album of the band.
The Death of Cobain, Nirvana, and Grunge
As Cobain toured New York (for MTV's live unplugged album) and Europe, he began spending more time with Courtney and his daughter. As he was a long time sufferer of depression and a drug user, there was some concern but not much. At least until he overdosed on drugs in a hotel room in Rome. He also locked himself in his room with guns on one occasion, but he was ruled as "not suicidal."  As he started going to drug treatment centers after Courtney's plea for him to get clean, he snuck out one day back to his home and died by suicide on April 5th, 1994. He remained an icon of the 90s and was the initial end of the grunge era (at least until Layne Statley died). After a while, the band was finally inducted in 2014 into the Rock and Roll Hall of Fame, solidifying their influence in the world of music. After several legal conflicts regarding Courtney and the remaining members of the band, the band released a few more albums (which were all commercially successful) and then finally dissipated. Drummer Dave Grohl formed his highly successful band "the Foo Fighters" while bassist Krist Novoselic went on to collaborate with many artists including the Foo Fighters. In 2017, he formed the band "Giants in the Trees" as a local music project. Although they are not commercially successful, they are still going strong with their previous album releasing in 2019.
Nirvana's 10 Greatest Songs (In My Opinion):
(FYI these are not in order)
"Heart-Shaped Box" (In Utero)
"Smells Like Teen Spirit" (Nevermind)
"Something in the Way" (Nevermind)
"Love Buzz" (Bleach)
"Lithium" (Nevermind)
"Come as You Are" (Nevermind)
"In Bloom" (Nevermind)
"Where Did You Sleep Last Night" (MTV Unplugged)
"The Man Who Sold The World" (MTV Unplugged)
"Aneurysm" (Incesticide)