Great Books for February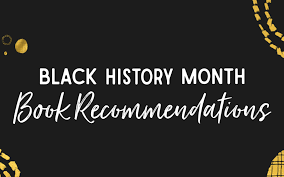 These great books feature strong African-American protagonists and will definitely enhance your February reading!
Punching the Air by Ibi Zoboi & Yusef Salaam (Fiction, Poetry, 2020) Suddenly, at just sixteen years old, Amal's bright future is upended: he is convicted of a crime he didn't commit and sent to prison. Despair and rage almost sink him until he turns to the refuge of his words, his art. This never should have been his story. But can he change it? With spellbinding lyricism, award-winning author Ibi Zoboi and prison reform activist Yusef Salaam tell a moving and deeply profound story about how one boy is able to maintain his humanity and fight for the truth, in a system designed to strip him of both.
Grown by Tiffany D. Jackson (Mystery/Thriller, 2020) Korey Fields is dead. When Enchanted Jones wakes with blood on her hands and zero memory of the previous night, no one—the police and Korey's fans included—has more questions than she does. All she really knows is that this isn't how things are supposed to be. Korey was Enchanted's ticket to stardom. Before there was a dead body, Enchanted was an aspiring singer, struggling with her tight knit family's recent move to the suburbs while trying to find her place as the lone Black girl in high school. But then legendary R&B artist Korey Fields spots her at an audition. And suddenly her dream of being a professional singer takes flight. Enchanted is dazzled by Korey's luxurious life but soon her dream turns into a nightmare. Behind Korey's charm and star power hides a dark side, one that wants to control her every move, with rage and consequences. Except now he's dead and the police are at the door. Who killed Korey Fields? All signs point to Enchanted.
Happily Ever Afters by Elise Bryant (Romance, 2021) Sixteen-year-old Tessa Johnson has never felt like the protagonist in her own life. She's rarely seen herself reflected in the pages of the romance novels she loves. The only place she's a true leading lady is in her own writing—in the swoony love stories she shares only with Caroline, her best friend and #1 devoted reader. When Tessa is accepted into the creative writing program of a prestigious art school, she's excited to finally let her stories shine. But when she goes to her first workshop, the words are just…gone. Fortunately, Caroline has a solution: Tessa just needs to find some inspiration in a real-life love story of her own. And she's ready with a list of romance novel-inspired steps to a happily ever after. Nico, the brooding artist who looks like he walked out of one of Tessa's stories, is cast as the perfect Prince Charming. But as Tessa checks off each item off Caroline's list, she gets further and further away from herself. She risks losing everything she cares about—including the surprising bond she develops with sweet Sam, who lives across the street. She's well on her way to having her own real-life love story, but is it the one she wants, after all?
Let Me Hear a Rhyme by Tiffany D. Jackson (Fiction, 2019) Biggie Smalls was right. Things done changed. But that doesn't mean that Quadir and Jarrell are okay letting their best friend Steph's tracks lie forgotten in his bedroom after he's killed—not when his beats could turn any Bed-Stuy corner into a celebration, not after years of having each other's backs. Enlisting the help of Steph's younger sister, Jasmine, Quadir and Jarrell come up with a plan to promote Steph's music under a new rap name: The Architect. Soon, everyone in Brooklyn is dancing to Steph's voice. But then his mixtape catches the attention of a hotheaded music rep and—with just hours on the clock—the trio must race to prove Steph's talent from beyond the grave. Now, as the pressure—and danger—of keeping their secret grows, Quadir, Jarrell, and Jasmine are forced to confront the truth about what happened to Steph. Only each has something to hide. And with everything riding on Steph's fame, together they need to decide what they stand for before they lose everything they've worked so hard to hold on to—including each other.
One of the Good Ones by Maika Moulite and Maritza Moulite (Mystery, 2021) When teen social activist and history buff Kezi Smith is killed under mysterious circumstances after attending a social justice rally, her devastated sister Happi and their family are left reeling in the aftermath. As Kezi becomes another immortalized victim in the fight against police brutality, Happi begins to question the idealized way her sister is remembered. Perfect. Angelic. One of the good ones. Even as the phrase rings wrong in her mind—why are only certain people deemed worthy to be missed?—Happi and her sister Genny embark on a journey to honor Kezi in their own way, using an heirloom copy of The Negro Motorist Green Book as their guide. But there's a twist to Kezi's story that no one could've ever expected—one that will change everything all over again.
The Field Guide to the North American Teenager by Ben Philippe (Fiction, 2o2o) Norris Kaplan is clever, cynical, and quite possibly too smart for his own good. A Black French Canadian, he knows from watching American sitcoms that those three things don't bode well when you are moving to Austin, Texas. Plunked into a new high school and sweating a ridiculous amount from the oppressive Texas heat, Norris finds himself cataloging everyone he meets: the Cheerleaders, the Jocks, the Loners, and even the Manic Pixie Dream Girl. Making a ton of friends has never been a priority for him, and this way he can at least amuse himself until it's time to go back to Canada, where he belongs. Yet against all odds, those labels soon become actual people to Norris…like loner Liam, who makes it his mission to befriend Norris, or Madison the beta cheerleader, who is so nice that it has to be a trap. Not to mention Aarti the Manic Pixie Dream Girl, who might, in fact, be a real love interest in the making. But the night of the prom, Norris screws everything up royally. As he tries to pick up the pieces, he realizes it might be time to stop hiding behind his snarky opinions and start living his life—along with the people who have found their way into his heart.
Calling My Name by Liara Tamani (Fiction, 2017) This unforgettable novel tells a universal coming-of-age story about Taja Brown, a young African American girl growing up in Houston, Texas, and deftly and beautifully explores the universal struggles of growing up, battling family expectations, discovering a sense of self, and finding a unique voice and purpose. Told in fifty-three short, episodic, moving, and iridescent chapters, Calling My Name follows Taja on her journey from middle school to high school.
Pride by Ibi Zoboi (Fiction, 2018) Zuri Benitez has pride. Brooklyn pride, family pride, and pride in her Afro-Latino roots. But pride might not be enough to save her rapidly gentrifying neighborhood from becoming unrecognizable. When the wealthy Darcy family moves in across the street, Zuri wants nothing to do with their two teenage sons, even as her older sister, Janae, starts to fall for the charming Ainsley. She especially can't stand the judgmental and arrogant Darius. Yet as Zuri and Darius are forced to find common ground, their initial dislike shifts into an unexpected understanding. But with four wild sisters pulling her in different directions, cute boy Warren vying for her attention, and college applications hovering on the horizon, Zuri fights to find her place in Bushwick's changing landscape, or lose it all. In a timely update of Jane Austen's Pride and Prejudice, critically acclaimed author Ibi Zoboi skillfully balances cultural identity, class, and gentrification against the heady magic of first love in her vibrant re-imagining of this beloved classic.
A Blade So Black by L.L. McKinney (Fantasy, 2018) The first time the Nightmares came, it nearly cost Alice her life. Now she's trained to battle monstrous creatures in the dark dream realm known as Wonderland with magic weapons and hardcore fighting skills. Yet even warriors have a curfew. Life in real-world Atlanta isn't always so simple, as Alice juggles an overprotective mom, a high-maintenance best friend, and a slipping GPA. Keeping the Nightmares at bay is turning into a full-time job. But when Alice's handsome and mysterious mentor is poisoned, she has to find the antidote by venturing deeper into Wonderland than she's ever gone before. And she'll need to use everything she's learned in both worlds to keep from losing her head . . . literally.
The Summer of Everything by Julian Winters (LGBT, 2020) Comic book geek Wesley Hudson excels at two things: slacking off at his job and pining after his best friend, Nico. Advice from his friends, '90s alt-rock songs, and online dating articles aren't helping much with his secret crush. And his dream job at Once Upon a Page, the local used bookstore, is threatened when a coffeeshop franchise wants to buy the property. To top it off, his annoying brother needs wedding planning advice. When all three problems converge, Wes comes face-to-face with the one thing he's been avoiding—adulthood. Now, confronted with reality, can Wes balance saving the bookstore and his strained sibling relationship? Can he win the heart of his crush, too?
**Plot summaries from Goodreads.com