"Squid Game" A Netflix Dystopia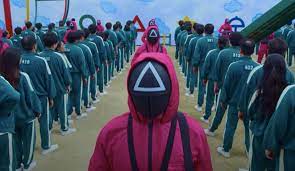 The new popular Netflix series known as "Squid Game" is a thriller/drama surrounding the life of a man named Seong Gi-hun. This South Korean drama was originally created using its native language, but it can also be viewed dubbed in English and other languages within the streaming platform. After airing for just a month, the show gained more than 142 million views, taking the lead for being Netflix's most watched-series to date.
The series begins with a look into the lifestyle of the protagonist, Seong Gi-hun, led. It showed his personal struggles in life due to past mistakes and shines light on what type of person he really is. "Squid Game" is about how 465 contestants, who all happen to be in debt, complete challenges to win ₩45.6 billion. The losers of these challenges get dangerous and inhumane penalties, until there is one victor standing. 
Everyone struggles with spending, saving, and dealing with money. "Squid Game" explores and touches base on what people are willing to do, as well as what type of lengths people are really willing to go to, and the types of sacrifices one can make when it comes to money. 
You can really learn about peoples' true nature by watching this drama. All types of people walk different paths in life with such similar outcomes. The game shows how human instinct and human desire correlates and dissociates with one another. An additional unique thing this series sheds light on is how people struggle with their instinct and what they believe to be 'right' versus with their true desires and greed to succeed.
If you enjoyed "Squid Game," other popular series and movies that are similar in genre are "The Hunger Games", "Alice in Borderland," "3%," and many more. 
**WARNING: SPOILERS AHEAD**
DO NOT READ ON IF YOU HAVE NOT SEEN THE ENTIRE SERIES!!!!!
SERIOUSLY– STOP READING IF YOU DON'T WANT TO KNOW WHAT HAPPENS!!!
*****LAST WARNING… SPOILERS AHEAD!!!!!****
These themes above can be shown greatly in one of the side characters, Cho Sang-woo. Sang-woo appears to live the life of a wealthy businessman and even graduated from one of the top colleges in the area, but in reality he's struggling with money and is in desperate need. In the game, he groups up with his childhood friend, also known as Seong Gi-hun, and three other people. 
His future actions show and dictate his desperation, as he even goes as far as setting someone else up for failure for his own benefit multiple times. He even tries to sabotage the main character and the rest of their teammates by not telling him what type of game is happening even though he's already figured it out, leading Gi-hun to survive last minute by a stroke of luck due to his poor choice early-game.