Another Incredible Season for Boys Varsity Soccer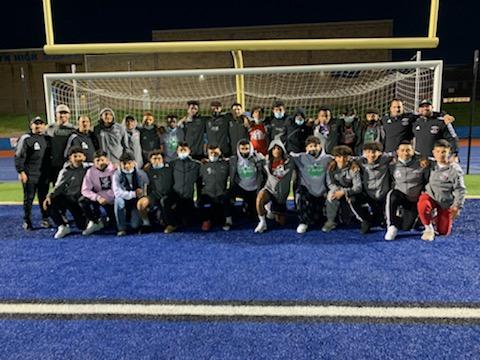 It was another incredible run. They didn't get the ending they hoped for, but the Amityville Memorial boys varsity soccer team proved themselves worthy opponents over the weekend at the NYSPHSAA Championships.
On Saturday, they battled a physical, bordering on overly-aggressive, East Syracuse Minoa team that hadn't allowed more than a single goal since mid-October. The Warriors would score 4 goals against them, with seniors Bryce Cherry and Juan Ponce each finding the net twice before the 80 minutes was up. After the game, Ponce was quoted in Newsday as saying, "I always like to shine in these bright moments, and give people hope that if they see me do it, then they can, too." The Amityville Warriors took that energy and their "FUEL THE FIRE" mentality into the championship game on Sunday.
A coach bus full of student fans traveled up to Faller Field in Middletown again to cheer on the Warriors as they took to the cold turf field. Excitement was in the air. Amityville would faced a Somers team full of experienced seniors with seemingly unstoppable strikers. The two teams had met here before. Amityville lost to Somers in a gut-wrenching semifinal overtime back in 2016, before winning the state championship against them just 2 years later in 2018.
Senior Bryce Cherry put the Warriors on the board first, scoring in just the sixth minute, but Somers answered with a goal of their own and looked almost unstoppable for the rest of the game. Amityville was not without scoring opportunities, but some off-the-post shots and luck favoring the Somers goalkeeper kept them from adding to the scoreboard. Amityville keeper Emmanuel Salazar had some incredible saves throughout the game. Cherry scored again before the game ended, but he was largely shut down by triple-teaming Somers defenders. Somers also pressured senior Juan Ponce for most of the game and their size, defense, and two seemingly-unstoppable strikers would ultimately come out on top. Stanley Louis did a great job keeping the ball in play, as did fellow junior, Alan Funez. And freshman John Arango gained some serious playoff experience that will no doubt help this team in the future.
The final score really doesn't reflect how well the Amityville Warriors played on Sunday. The score could've just as easily been 4-4 headed into the last 20 minutes. But things don't always work out the way you want them to, no matter how hard you want it, or even how hard you go after it. The Amityville boys varsity soccer team should be incredibly proud of themselves. They are now 4-0 all-time in Long Island title matches, (2015, 2016, 2018, 2021) and have earned 2 state titles since 2015, one in 2015 and one in 2018. This year's finale wasn't what they hoped for, but it is one that makes all of us proud to call them Amityville Warriors!