"Call Me If You Get Lost" Album Review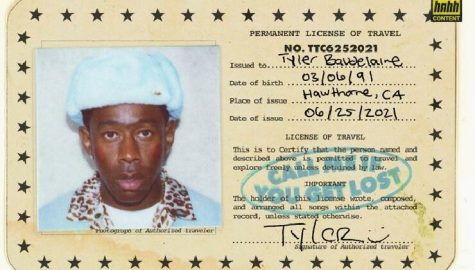 ¨Call Me If You Get Lost¨ is the latest album by rapper and producer Tyler, the Creator. Released on June 25th of this year, this album has come to be known as one of the best and most critically acclaimed albums this year. So much so that this year, Tyler won a B.E.T. award for the best album this year. His songwriting, lyricism, and production on the album is nearly unmatched, as this was quickly to be held as a modern classic of the new decade. Many are even going as far as saying it might be Tyler's best album and holding it as the automatic album of the year (which may very well be a possibility if the year keeps on going in the same direction that it has been going in). The features that are strategically placed also adds greatly to the album´s overall quality, giving it a clean and sophisticated experience. This album is a mixture of several of Tyler's previous sounds, creating a new, rich sound from the pile.
Starting strong with the first song, "SIR BAUDELAIRE" sets a certain tone for the album and what is going to follow. It also prepares the listeners for DJ Drama's ad-libs, which are going to be very prominent throughout the album. Initially, this drove away many listeners, but many have grown to appreciate his additions. It also introduces "Tyler Baudelaire", the character Tyler plays in the album. The themes that will be tackled are themes of romance, egotistical drive, vulnerability, personal experiences, self-awareness, modern and "summer vibes" (as it was fittingly released at the end of May). As the album goes on with tracks like "CORSO" and "LEMONHEAD" (featuring 42 Dugg), Tyler closes in on a sound that will overtake the album that is very reminiscent of his "Wolf" era infused with his "Flower Boy" era. One of the hit singles "WUSYANAME" (featuring NBA Youngboy and Ty Dolla $ign) sounds like a 90s R&B hit (which is what it is essentially trying to replicate) which features some of NBA Youngboy's best vocals and great backing vocals from Ty Dolla $ign. Right after, the lead single "LUMBERJACK" hits with a completely different sound, as Tyler returns to rapping (which was almost completely missing from his previous album "Igor") about his material wealth and embracing the ego of his character. "HOT WIND BLOWS" (featuring Lil Wayne) has one of the greatest instrumentals on the album, featuring a prominent flute and jazzy piano that accompanies Lil Wayne's scratchy vocals surprisingly well. "MASSA" is a very provocative song, allowing for Tyler to speak of the evils that have been done to African Americans in the past and contrasts that with a story of his success. It is a very lyrically focused song, being driven by a simple beat but by a flow that has a sound of Tyler's debut album "Goblin". "RUNITUP" (featuring Teezo Touchdown) follows, which is a simple track, featuring a repetitive chorus/hook that is extremely catchy and a verse rapping on his success, which is one of the most prevalent themes of the album.
Going into the second half, the listener is immediately hit with "MANIFESTO" (featuring Domo Genesis, a member of the rap group "Odd Future", which Tyler was previously a part of), a song featuring a jarring sample of vocal harmonies that are prevalent throughout the entirety of the song, as he responds to social media drama and essentially gives his thoughts on "cancel culture". "SWEET/I THOUGHT YOU WANTED TO DANCE'' (featuring Brent Faiyaz and Fana Hues) is the longest song on the album, running nearly to the ten minute mark. It is a mixture of two songs, starting with a soft but groovy instrumental with Tyler singing instead of rapping and Brent Faiyaz on supporting vocals, but then turns it into a reggae song halfway through with Fana Hues' beautiful vocals shining through the instrumental. This is my personal favorite song on the album, as it's so unique and is a nine minute song that doesn't contain one second of boredom. After the interlude "MOMMA TALK", "RISE" (featuring DAISY WORLD) follows with a continuation of a similar sound to tracks like "RUNITUP" or "MANIFESTO", continuing Tyler's rapping sound that has been long lost after the days of "Flower Boy". DAISY WORLD also offers immaculate vocals to the track, once again, shining through the beat and adding a sort of quality that other albums this year may not have. Another interlude named "BLESSED" occurs, having Tyler speaking about how good his life is and how good the world is treating him and his success, but the listener is hit with one of the best songs on the album right after called "JUGGERNAUT", (featuring Lil Uzi Vert and Pharrell Williams). It is a sort of "mosh" song, as it's beat has a heavy bass and loaded drums along with a vicious verse by Tyler. Lil Uzi Vert follows, with quality as always, but what really surprises most is Pharrell's verse right after, as this is the first time many people are hearing Pharrell rap (as he's been mostly known for his "Happy-esque" songs as of lately). "WILSHIRE" follows, offering a calmer but more lyrically focused song after the intense and energetic vibes that the previous track gave off. Recorded in one take, it is a song that gives the story of one of his failed relationships, from when the two first meet up until their breakup in eight and a half minutes. It is a sorrowful and painfully realistic track if one pays attention to the lyrics, as many can relate to the toxic relationships they have been through and trying to keep the flame going even though it is almost out. Lastly, the album finishes with "SAFARI", a song with a relatively light-hearted and happy tone, speaking of Tyler's travels and once again, having his character brag about his egotism and success. It is a great closer, as it recollects the sound from the album and just emphasizes on the theme of it being a summer album full of travel, ups and downs, and realistic aspects.
The Final Verdict
The album remains consistent throughout the entirety of its duration, clocking in at about 52 minutes of quality music that contains variety, features that add to the depth of the songs and album, and themes that are followed closely throughout the project. The samples are greatly chosen and the mixing is fantastic, as the production on the entire album is extremely well done. The lyricism and rap flow really shines through, which is an unexpected surprise due to Tyler's previous "break" from rapping. It is reminiscent of an older Tyler sound while incorporating aspects from his newer projects and is constantly improving on his lyricism, story telling, and rhyme scheme. Objectively, this album is the greatest album this year so far. It is technically unmatched, lyrically impressive, and has no inconsistent features. Tyler will keep on growing and growing, as it is scary to think this may not even be his peak yet, as this is what many rappers would have their greatest project aspire to be. I give this album a strong 8 to a light 9. Although the themes could have been slightly more intricate, for a summer album, it does impressively well with some surprisingly deep and personal songs by Tyler. He continues to adapt to the changing rap sound and continues to innovate with new or advanced sounds that many rappers have yet to venture into. He will turn out to be the next Kanye West on account of his innovative sounds, profound confidence in his ability, and inspiration he gives to new upcoming rappers and artists in general.