Jury Finds Teenager Not Guilty in Kenosha Shootings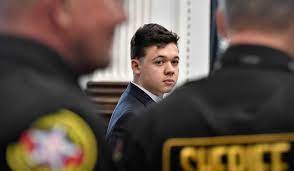 On Friday, November 19, 2021 Kyle Rittenhouse, now 18,  was acquitted of all charges after testifying that he acted in self-defense when he shot three people (killing two) during protests and civil unrest in Kenosha, Wisconsin on the night of August 25, 2020. Rittenhouse, then 17, traveled from his home in Antioch, Illinois to Kenosha where protests were taking place following an officer-involved shooting that killed a man named Jacob Blake. Rittenhouse claimed he was there to offer protection to local businesses and offer first aid. He carried an AR-15-style assault rifle with him and testified on his own behalf in court to say that his actions that night were in self-defense.
Rittenhouse turned himself in to police in his home town after the shooting and was held in a juvenile facility until he was extradited to Wisconsin on October 30, 2020. He was released from detention on November 20, after posting $2 million bail. On January 5th, Rittenhouse was seen at a bar in Wisconsin with his mother where he was photographed drinking beer and posing for pictures with men singing a song used by the Proud Boys, a far-right political organization. Rittenhouse was also photographed flashing an "OK" sign, which has allegedly been used by white supremacists to signify white power.
Kyle Rittenhouse faced charges that included first-degree reckless homicide, first-degree intentional homicide, attempted first-degree intentional homicide, first-degree recklessly endangering safety (two counts), possession of a dangerous weapon by a person under 18, and failure to comply with an emergency order from state or local government (for breaking curfew). He pleaded not guilty to each count. The judge in the case dismissed the curfew violation charge as well as the charge of unlawful possession of a firearm. The jury reached a unanimous verdict on all other charges after more than 25 hours of deliberations spanning four days. Rittenhouse was found not guilty on all counts.
Many people following the case were divided on the actions Kyle Rittenhouse took that night in Wisconsin. Some saw him as standing up for law and order, while others saw him as a dangerous vigilante taking the law into his own hands.
As quoted by the Associated Press , "The Rev. Jesse Jackson, the longtime civil rights leader, said the verdict throws into doubt the safety of people who protest in support of Black Americans. 'It seems to me that it's open season on human rights demonstrators,' he said."