Do You Know: Lusia Harris?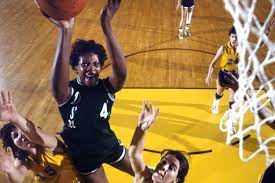 Lusia Harris was a basketball phenom.
A pioneer of women's basketball.
The first woman to ever score a basket in the Olympics.
Lusia Harris is the only female player ever officially drafted by the NBA, and she actually turned down the seventh round offer from the New Orleans Jazz in 1977. She died this week at the age of 66.
Born in Mississippi on February 5, 1955, as the tenth of eleven children, Harris and many of her siblings started playing basketball while in high school. Serving as team captain, Harris won the MVP award three years in a row and posted a school record of 46 points in one game. She also led her team to the state tournament.
After high school, Harris hoped to attend Alcorn State University, but they didn't have a women's basketball team at the time. She was recruited by Delta State University in Cleveland, Mississippi where she helped lead the team to three straight AIAW national titles from 1975-1977. She was named MVP in all three seasons and received the first-ever Honda Sports Award for basketball in her final year. Harris averaged 25.9 points and 14.4 rebounds per game in college, lifting Delta State to a 109-6 record during her time there. She is still the school's record holder for career points (2,981) and rebounds (1,662).
Women's basketball was added to the summer Olympics in 1976, and Harris was named to the team. She scored the first points of the first game, and the U.S eventually claimed the silver medal behind the Soviet Union.
In 1977 she was selected by the New Orleans Jazz with the 137th pick in the NBA Draft (ahead of 33 other male players) but she turned them down. (She was technically the second woman ever drafted by an NBA team after the San Francisco Warriors selected Denise Long in 1969, but that pick was voided.) "I just thought it was a publicity stunt and I felt like I didn't think I was good enough," she said in "The Queen of Basketball," a short film about her life and career. "So I decided not to go. Yeah, I said no to the NBA. …I don't regret not going. Not even a little bit."  It was later revealed that Harris was pregnant at the time she declined their offer to try out for the team.
Lusia Harris' only professional games came in the 1980 Women's Professional Basketball League playoffs for the Houston Angels. She held multiple collegiate coaching positions after her playing days were completed. In 1992 she was became the first African-American woman inducted into the Naismith Memorial Basketball Hall of Fame. In 1999 she was part of the inaugural class of the Women's Basketball Hall of Fame. She has also been named to the International Women's Sports Hall of Fame.
For more information on this trailblazing woman, check out the links below.