USPS Unveils Stamp Honoring Edmonia Lewis
The United States Postal Service (USPS) debuted a new stamp on January 26, 2022 featuring American sculptor, Edmonia Lewis.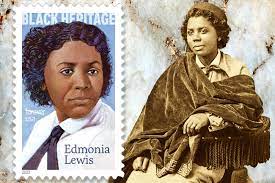 Early Life and Education
Mary Edmonia Lewis was the first African-American and Native American sculptor to achieve national and international recognition. Born in the mid-1800's in upstate New York, Lewis's mother was of mixed Ojibwa/Chippewa and African-American descent, while her father was African-American. Both of her parents died when she was young and she was sent to live with her aunts who took charge of raising her and providing her with a solid education. It was during this time that she went by her Native American name, Wildfire. When Lewis was about 15 years old, her brother Samuel (who made a fortune as a gold miner in California) paid for her to attend Oberlin College in Ohio beginning in 1859. Despite Oberlin's attempts at progressiveness, Lewis described her experience as one of daily racism and discrimination. In 1863 she was even wrongly accused of poisoning two of her classmates, and attacked by a white mob of townspeople as news of the incident spread. Lewis was so badly beaten that she was left for dead in an open field. Despite the attack, Lewis was arrested for the alleged poisoning of her classmates and put on trial. The charges were dismissed, but that would not be the end of her difficulties at Oberlin. About a year later, Lewis was accused of stealing art materials from the school. She was acquitted due to a lack of evidence. Just a few months later she was charged with aiding and abetting a burglary, and it was at this point when she either decided to leave or was asked to dis-enroll.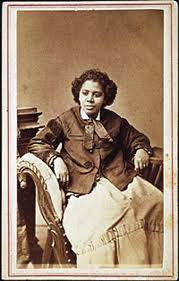 Career Moves
After leaving Ohio, Lewis moved to Boston, Massachusetts where she pursued a career in sculpture. One of her first big breaks came in 1864 when she was commissioned to create a bust of Colonel Robert Shaw, the white military commander of the all-Black 54th Massachusetts Regiment during the Civil War. She sold enough copies of that bust to allow her to move to Rome, Italy where she eventually set up a studio, learned Italian, and created some of her most famous pieces.
Speaking to the New York Times in 1878, Lewis said, "I was practically driven to Rome in order to obtain the opportunities for art culture, and to find a social atmosphere where I was not constantly reminded of my color. The land of liberty had no room for a colored sculptor."
Notable Work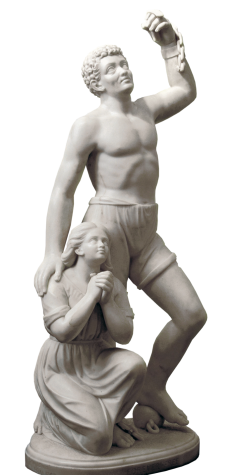 In 1877, former U.S. President Ulysses S. Grant commissioned her to do his portrait. Much of  Lewis's work however, sought to express her African-American and Native American heritage. "Forever Free," one of her most famous pieces, depicts an African-American man and woman emerging from the bonds of slavery. Another famous sculpture of hers, "The Arrow Maker," depicts a Native American father teaching his daughter how to craft an arrow. In the late 1800's some of Lewis's work was earning up to $50,000 for a single commission. Perhaps her most notable sculpture, "The Death of Cleopatra" a 3,015-pound marble sculpture, portrayed the queen as she approached her death and was highlighted at the 1878 Chicago Interstate Exposition.
In 1978, Harriet Tubman became the first Black American woman to appear on a USPS stamp, as well as the first person featured in the Black Heritage Series. The Edmonia Lewis stamp is the 45th in the series.