Book Review: It Ends With Us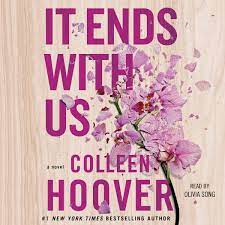 If you've ever been on Tiktok's subcommunity "Booktok" you've probably heard of Colleen Hoover. She's one of the most popular writers currently thanks to avid readers who rave about novels she wrote such as, "Ugly Love" and "Verity". But none of those books garnered such a cult following as much as her 2016 romance novel ,"It Ends With Us." and after reading the novel cover to cover, twice, I can say it's definitely deserving of its praise. The book is a raw and heartbreaking piece of art and I can say with certainty it's my new favorite book.
The Novel follows Lily, an aspiring florist and Ryle, a neurosurgeon with major commitment issues. They meet on a roof when Lily returns from her father's funeral , they share deep secrets with each others that they call "naked truths", Lily shares the abuse her mother faced at the hands of her father and Ryle opens up about losing a patient. After almost sharing an intimate moment, the two part ways only to meet again when Lily opens her flower shop where his sister Alyssa begins working at. Soon, the two begin to fall in love, during this time Lily looks back on her relationship with her first love Atlas (via diary entries that she wrote to Ellen) a homeless senior from her school who she begins to secretly help. It may seem like the cliche love triangle plot line that's present in basically every romance novel. But it's not, "It Ends With Us" is about a domestic abuse survivor finding the strength to leave her violent situation.
Colleen Hoover does an excellent job at portraying the complexities of loving someone who hurts you and why it's so hard to leave an abusive relationship. The novel was deeply personal for Hoover as she based Ryle and Lily's relationship off of her own parent's relationship specifically the first time Ryle ever gets violent with Lily, a moment that comes as a complete shock to readers.