"Euphoria" Season 2 Review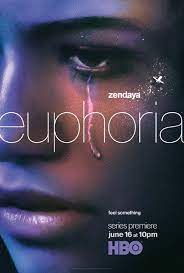 DISCLAIMER: The following review is for a show which presents mature subject matter that neither The Amityville Echo nor the Amityville School District endorse. 
Almost 3 years after season one premiered, HBO's teen melodrama, Euphoria is back. Season one of the show, while having many flaws, was very well written, and the two special episodes that were made as a result of the pandemic and its impact on filming were two of the best episodes of the series and helped Euphoria cement itself as one of the best teen dramas so far. Season two seems to downplay all of this praise as the show starts to become a contradictory mess. 
Plot and Characters
Season two begins with the backstory of Fezco, the show's drug dealer, including how he became involved in the life of crime and his brotherhood with Ashtray. In the present day, the show introduces a new plot line during a New Year's Eve party where Cassie begins an affair with Nate, her best friend, Maddy's (abusive) ex-boyfriend. The plot becomes repetitive as it takes 5 episodes for their relationship to be exposed, which wouldn't be a problem except for the fact that the season only has eight episodes. The plot ruins Cassie's character, a character, who in season 1 was, for the most part, unproblematic, at least when compared to other characters, while this plot isn't too unrealistic as Cassie's entire story line is about her need for male validation, it is still disappointing. Another relationship begins in the premiere as well, between Rue and Jules, all while Rue continues to do drugs behind Jule's back with her new friend Elliot, whom Jules later cheats on Rue with. Kat's character is practically nonexistent this season. The only time she speaks is either to complain about how much she hates her boyfriend (a plot that isn't really explained or resolved) or to be a friend to Maddy, but besides that, she's basically a glorified extra. A character who stands out this season is Lexi, the younger sister of Cassie and Rue's childhood friend. During season 1, she was ignored in favor of her arguably more interesting sister and best friend, but this season she's one of the breakout characters. She enters into a romance with Fez, and while it is questionable that a 21-year-old drug dealer is romantically involved with a 17-year-old high school student, they do share some cute moments. Along with the romance plot, she also starts to write a play on the lives of her friends and sister through her perspective, the one perspective we missed in the last season. 
Things I liked
It's hard to talk about Euphoria without mentioning the amazing fashion. The show continues to stun us with amazing outfits that most teenagers couldn't actually afford or wear to a high school without being dress coded. My favorite looks this season come from Maddy ( her New Year's party dress was the best look of the season,in my opinion) and Lexi's seemingly endless supply of Miu Miu.  The acting this season is amazing. Sydney Sweeney, who plays Cassie, stands out as one of the show's best actors, and Zendaya in episode five's opening scene gives one of the best performances of her career, other actors like Alexa Demie and Angus Cloud, who play Maddy and Fezco, respectively, get to show off how much their acting has improved since season 1, while Jacob Elordi, as Nate, is also great as a (somewhat) sympathetic villain. Another thing this season did well was dispute any claims that the show was glorifying drug abuse. While not as good as season 1, it's not by any means bad. 
Things I disliked
One of the biggest problems with season 1 was the amount of unnecessary nudity on the show, and in season two it became even more excessive, so much so that Sydney Sweeney, Chloe Cherry, and Minka Kelly all came out about how they had to ask to have nudity scenes cut out of the scenes because they were unnecessary. While the show prides itself on showing an equal amount of nudity between male and female characters, the female nudity in the show (specifically that of Sydney Sweeney's underage character) feels more gratuitous and exploitative. I understand it's an HBO show, but it's also a show about teenagers. Another problem is the character regression done to Jules' character. At the beginning of 2021, HBO released "*** anyone who isn't a sea blob," the second special episode, which follows Jules after she left Rue. We not only get her perspective of how things went down during season one, but we also see Jules come to terms with her sexuality as she realizes she has built her entire femininity around men and what they want. She realizes she is no longer interested in men. This personal development is all forgotten about when she cheats on Rue with Elliot, Rue's best friend; this is never explained and Rue never even finds out. After this scene, Jules has like 10 more lines over the course of the rest of the season.
The difference between the special episode and season 2 is that the special episode was co-written by Hunter Schafer, who plays Jules, and season 2's writing is done by Levinson only. The problem is that Sam Levison is not as good a writer as he thinks he is. The number of plot holes and contradictions made in just eight episodes is astounding. His other projects, "Assassination Nation" and "Malcolm & Marie", show how poorly he is at writing teenagers (specifically teenage girls) and people of color. He also has this habit of having traumatizing things happen to the characters for the sake of the plot and then they are never expanded on. Maddy having a gun put to her head by her abusive ex-boyfriend and never mentioning it again . This was a problem in season 1 as well, when Mckay is assaulted by his frat brothers in front of his girlfriend, Cassie, instead of dealing with the complexities of being a black male assault victim, especially one that has dealt with toxic masculinity in the same way Mckay has, the show instead makes it about his white girlfriend who cheats on him a day later, and the last time he is seen in season 1 is when he comforts Cassie in another story line that is never mentioned in season two. The only story line that I believe is perfectly written is Rue's addiction, which is most likely due to the fact that Levinson has dealt with addiction himself. Sam's experience as an addict allows him to write a compelling arc about Rue, but the other characters' arcs feel very superficial in comparison.
Overall
I believe that all of my critiques of the show can be resolved by Sam simply opening up the writers' room and for him to get over his need to sexualize teenagers. This season was a mess and not in a good way, but it is not beyond repair. The best episode is definitely the fifth, where the actors, specifically Zendaya, deliver amazing performances. The worst episode is the fourth, which has what seems like an hour-long scene of Sydney Sweeney and Eric Dane drunkenly singing to Sinéad O'Connor, but the season finale is a very close second. Euphoria is an important show to have, but it's not without its flaws.