April is National Poetry Month!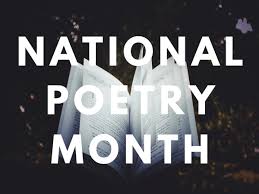 Amin Shah, Arts & Entertainment Editor
April 3, 2022
National Poetry Month occurs each April and is a great reminder to appreciate the poetry of the past, present, and be hopeful of what's to come. I have personally been recently drawn to the works of Matsuo Basho, Edgar Allan Poe, and revolutionary poet Gil Scott-Heron. It was launched by the Academy of American Poets in 1996, and since then, millions and millions of readers have participated in the yearly event and many more publishers and authors have used this celebration to promote their poems. This month would be a great time of the year to appreciate the work of poets of all types around the world. Some even take the opportunity to write and release their creative energy into these poems during this time of year, creating works of art many believe they are not capable of creating. Use this opportunity to create pieces of literary art and unlock the creative processes within you. The academy uses this event to nationally recognize this event by organizing the first Poetry and Creative Mind Gala in 2002, being hosted by academy winner  Meryl Streep each year. Readings by artists such as Liam Neeson, Frank Rich, and Tony Kushner are done and the month has been even nationally recognized by former United States president Bill Clinton. Many appreciate this event, and bringing poetry to light during its month is only sensible. To unwind and enjoy this month, some poets and their works which I recommend anyone to read are listed below:
Robert Frost: The Road Not Taken
Edgar Allan Poe: The Cask of Amontillado
Walt Whitman: Song of Myself
Langston Hughes: Pierrot
William Shakespeare: The Rape of Lucrece
Oscar Wilde: The Garden of Eros
Robert Burns: To A Mouse
John Keats: Ode to a Nightingale
I hope you all spend this month in literary achievement and poetic awakening.