Tragedy at the Ballpark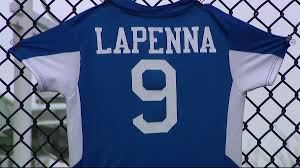 Tragedy hit Long Beach on April 29th with the death of 10-year-old Lazar LaPenna. While playing for the Little League Baseball team in his town, he passed away due to a seizure. He was diagnosed with epilepsy and found medication to manage his condition. His father, Gregg, explained that the seizure came on due to over excitement as he had just scored a hit. As soon as his father saw his face, he knew it wasn't a normal seizure. His brother, who was coaching first base, claimed Lazar attempted to steady himself by playing a hand on his brother but fell. Paramedics attempted to resuscitate him with CPR but were unable to. 
When he had turned 10, he decided to keep the number 9 on his jersey. Typically, he would switch his number to match his age however he was excited to stay number 9. His father expressed this by explaining, "he was really excited and looked at me and said, 'Dad, can I stay number nine? I want to be number nine forever.'" The heartbroken father followed this quote with "I guess he got his wish."
His brother, Gerry, said, "he was a really good kid. He loved everything he did." His father also expressed that he had a "deep soul" and quoted, "he knew his life was limited, but he always spoke about the future – he was a special kid." The last thing his father saw before he collapsed was his smiling face. 
As this family begins their mourning, they are met with amazing support. Long Beach School District expressed sympathy through Facebook with a post honoring the family as well as links to resources.
Lazar had a love for the New York Mets. After his death, the team left three baseball bats outside of their clubhouse on Tuesday to honor him. The New York Jets also held tributes. During their practice, nobody was assigned the number 9. It was reserved for Lazar LaPenna. They also hung a green jersey from a play clock in the end zone with his number and name. Robert Saleh, the coach, and Joe Douglas, the general manager, wore black sweatshirts with the initials "LL" on the front as well as his name and number on the back. Both the teams send their love and support to the family and teammates. 
Gregg LaPenna said, "the emotional support is overwhelming, and it really touches me every which way and they keep on coming. It's beautiful." 
The support doesn't stop there. Amityville Memorial High School reaches out to their hearts and support. All softball and baseball players, including some others, wore their jerseys on Monday, May 9th. The softball team also painted the number 9 and the initials "L.L." on their faces and forearms during their game to honor his passing as well as some baseball players writing on their arms wrap. 
We wish the family the best and hope they receive the support they need. Rest in peace Lazar LaPenna. <3
Further Links:
Farberov, S. (2022, May 4). 'sheer excitement' caused seizure that killed Long Island Little Leaguer: Dad. New York Post. Retrieved May 11, 2022, from https://nypost.com/2022/05/04/dad-says-seizure-that-killed-lazar-lapenna-caused-by-excitement/
'He was a special boy.' Mets, Jets, community pay tribute to Little Leaguer who died. News 12 Bronx. (n.d.). Retrieved May 11, 2022, from https://bronx.news12.com/tribute-for-lazar-lapenna-to-be-held-at-point-lookou
Jason Duaine Hahn May 05, 2022 07:59 P. M. (n.d.). Boy collapses and dies during his Little League game a day after celebrating his 10th birthday. PEOPLE.com. Retrieved May 11, 2022, from https://people.com/human-interest/10-year-old-boy-collapses-and-dies-during-little-league-game/
Patrick Lanni | NJ Advance Media for NJ.com. (2022, May 6). Jets honor N.Y. boy who died during Little League Baseball Game. nj. Retrieved May 11, 2022, from https://www.nj.com/jets/2022/05/jets-honor-ny-boy-who-died-during-little-league-baseball-game.html