Here in New York City, Our Students See Hamilton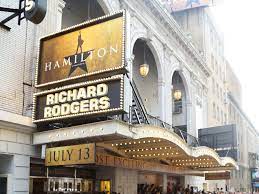 Aim your pistol at the sky, WAIT!
Wait a second, that sounds familiar, doesn't it? Amityville students buckle up their seats as the bus starts heading to Broadway. Here in New York City, these students get to see the "hottest, and most expensive show on Broadway," as described by principal, Mr. Plaia. He also said "I'm proud of our kids and teachers for earning the right to go.  Regarding the play itself, nothing short of amazing.  If I had unlimited funds – it would be a HS requirement for all of our students to attend." So how were these students able to go? Well, by taking the APUSH class and submitting a piece in the Hamilton Education Program contest, these students earned the privilege of going, free of charge!  
Typically those who were in APUSH went to see Hamilton in March. However, this is the first time the program has run in two years due to Covid19. Because they were unable to go last year, a group of former APUSH students, and seniors, joined the juniors on their trip. Misha Ankudovych says "it was exciting to get out into the city and see a Broadway play after staying home for so long because of the pandemic." Many of the seniors and juniors felt the same way. Miss Schulken, the APUSH teacher stated "The Hamilton trip is such a great opportunity for students to experience history. The project leading up to the trip and show itself get students to think about historical evidence in a new and interesting way.  I'm thrilled Amityville students have had the ability to see the show and learn from it along the way!." It's important to mention the other history teacher who went with us. Ms. Mizrachi, the AP World teacher joined us on our journey. She expresses her feelings by stating "This is our third year participating in the Hamilton Project.  Each year it gets better and better.  It is an opportunity of a lifetime.  It offers a fun outlook on learning and history.  I am so proud of our students' projects and experiences that have happened because of their hard work."
I will say that I reached out to both the program and Lin-Manuel Miranda on their thoughts on the program being revived, but was met with no comment. 
I think the most exciting part about this was not seeing the Broadway play, but getting to see a whole new world that many of us never knew existed. The beautiful buildings, and the inspiring artists who were performing, it was amazing. Not only do we get to learn about some history of the American Revolution, but we also get to experience the passion of these artists performing. They are all living their dream.
After the show, there was a Q and A. Here, performers answered questions that the schools had submitted. One of the questions was something along the lines of this, "Do you think you play your character perfectly?" They all said no. They expressed that with every performance, they learn something new to change and do better. They also stressed this, that was the part of the job that they loved. Constantly changing their characters is what keeps the show interesting for them but also improves them as performers. There were a lot of similar questions with heartfelt answers. 
This is an experience that none of us will forget. We hope that next year has as much fun as we did!