ECHO Editorial: American Senselessness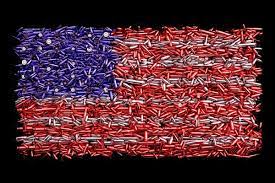 As the Amityville Echo staff prepared to digest and write about the senseless and racially-motivated shooting which took place at a Buffalo, NY supermarket on May 14, 2022, another senseless mass shooting occurred at a Texas elementary school. And there have been at least 20 mass shootings nationwide in the days since. According to the Gun Violence Archive there have been over 200 mass shootings (where four or more people– not including the shooter– are injured or killed) so far in 2022. That's an average of more than one per day, and there has not been a single week in America in 2022 that has not seen at least four mass shootings take place.
What are we doing? 
How is this an acceptable norm?
When will the necessary changes take place to protect the general public?
Who will be able to bring about that change?
Calls For Change
Following the Uvalde shooting, Senator Chris Murphy of Connecticut stood on the Senate floor, demanding action from his peers. "Why do you spend all this time running for the United States Senate," he said, "— why do you go through all the hassle of getting this job, of putting yourself in a position of authority — if your answer is that as this slaughter increases, as our kids run for their lives, we do nothing?" Sen. Murphy's district in 2012 included the village of Sandy Hook in Newtown, where 20 children between the ages of six and seven were killed along with six adult staff members. There was outrage from both politicians and the public following that tragedy, and renewed calls to reform gun safety laws in America. Some states took action by raising age limits on certain weapons and enacting red flag laws, but many states saw it as a call to arm even more people, including teachers and on-campus security officers.
A Time magazine article published this week highlights the anger felt by American teachers over gun violence, and features words from Sarah Lerner, a Marjory Stoneman Douglas High School English teacher who survived the 2018 attack which killed 17 people at her school in Parkland, Florida.
"We get into education because we love children, we love our subject matter, and we love teaching. None of us go into education to be human shields, and to be bodyguards, and makeshift police officers… But when those kids are in your charge, no matter how old they are, even my 18-year-old seniors, you are responsible for them."
On Tuesday, May 31, the American Federation of Teachers announced a new campaign aimed at advocating for better gun safety laws. In a press release, AFT President Randi Weingarten said, "This is a public health crisis. Educators deserve to be able to teach and not be forced to be human shields to protect their students. Parents and communities deserve to know their schools, stores and places of worship are safe."
Presidential Call To Action
President Biden addressed the nation on Thursday, June 2, calling on Congress to ban assault weapons, and if not, then at least raise the age to purchase an assault weapon from 18 to 21. The President also called for safe storage laws and the end to a liability shield that prevents civil lawsuits from being brought against gun manufacturers. President Biden also referenced a New England Journal of Medicine report that states firearm related injuries are now the leading cause of death for children and adolescents in the United States.
Friday, June 3rd marked National Gun Violence Awareness Day and many AMHS teachers and students were noticeably dressed in orange, signaling their support for an end to gun violence. Dr. Impagliazzo's students decorated the door to room 217 with their reasons for wearing orange, which ranged from mental health to stricter gun laws, and school safety.
Weekend Update
According to CNN, there have been TEN mass shootings in America since Friday. "In South Carolina and Texas, victims were shot at a high school graduation party. In Kentucky, funeral goers were hit outside a church. Multiple shooters sprayed a crowd with bullets in Philadelphia. In Chattanooga, Tennessee, shots rang out at a nightclub."
This cannot continue to be the American normal.