White House Press Secretary Makes History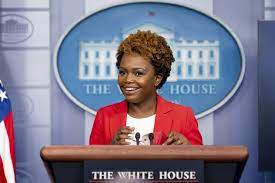 History was made on May 16th when Karine Jean-Pierre became the first Black person and the first out LGBTQ  woman to become the White House press secretary. The role of the White House press secretary is to be the chief official who speaks to reporters on behalf of the President of the United States.
Karine Jean-Pierre was born to Haitian parents and her family emigrated to Queens village from Martinique before then moving to Hempstead, Long Island. Jean-Pierre graduated from Kellenberg High School where she excelled in track, and then graduated from NYIT in 1997.
In a May 5 article published in Elle magazine, Jean-Pierre stated:

My parents were born and raised in Haiti. They left at a time of a dictatorship, because they wanted something better for themselves and their children. They wanted to make sure they could provide everything they didn't have for themselves. I grew up understanding that my parents sacrificed so much. My dad was a New York City cab driver, and my mom was a home health care aid. They had multiple jobs, worked six or seven days a week, and I barely saw them. I grew up with the understanding that it is an honor to be here in this country. The American Dream is not easy, especially if you are a person of color. My parents instilled in me to never give up an opportunity, work incredibly hard, and appreciate what you have. Now I get to pay it forward by being part of an administration that's helping people who are just like my parents. With everything I'm doing, I think about my parents. I think about how I grew up and the millions of families who are going through the same thing that I did.
On being able to have her dream job, Jean-Pierre stated:
I am this Black, queer, immigrant woman, and I get to walk into the gates of this White House. I have an office in the West Wing. And I'm doing this in an incredible, important moment. I'm doing it on behalf of President Biden, who I've known for over a decade. Everything we're doing, we're trying to help the American people. So I can't imagine a better opportunity.
The May 5th press release announcing the appointment of Karine Jean-Pierre included the following words from President Biden: "Karine not only brings the experience, talent and integrity needed for this difficult job, but she will continue to lead the way in communicating about the work of the Biden-Harris Administration on behalf of the American people. Jill and I have known and respected Karine a long time and she will be a strong voice speaking for me and this Administration.