Has Paramore Returned?
Amin Shah, Arts & Entertainment Editor
October 3, 2022
It has been five years since the emo-pop-punk group Paramore broke up due to conflicting interests and inner-group conflicts, but in mid-July, the group announced a reunion tour in October of this year. This is major news for fans of the band and fans of modern rock in general, as their mark left in today's rock, punk, and even pop scenes is notable. The group even announced the release of a new single ''This is Why,'' which will be the first piece of music the group released together in those five years.
Quick Biography
The group was founded in Franklin, Tennessee when lead vocalist Hayley Williams selected her group of instrumentalists (as she was looking for a band to front) Josh Farro, Zac Farro, Jason Bynum, and Jeremy Davis in 2004 and formed Paramore. The eclectic poppy sound of the music allowed the group to become popular with younger audiences which garnered instantaneous success. They released their first album ''All We Know is Falling'' in 2005, but they took off with their second album ''Riot!'', as hits like ''Misery Business'' and ''That's What You Get'' topped radio charts. They earned a grammy nomination for ''Best New Artist'' that year. They continued to release music and were even featured in a Transformers film, but many splits and legal disputes followed, leading to the eventual ''breakup'' of the band in 2017 (it was more of an undecided hiatus, but it felt like a breakup). That is, until this year. The band incorporated emotional honesty and talent to evolve the simple ''emo'' sound into something bigger than that, as their evolution throughout their albums is comparable to an artist like Mac Miller (whom I will be reviewing soon). They made their sound less ''mall-punk'' and more ''experimental-punk'', which was the right direction, which is why this reunion is so exciting to fans such as myself. Heir evolution will only continue and to think where they will go from their last album is riveting.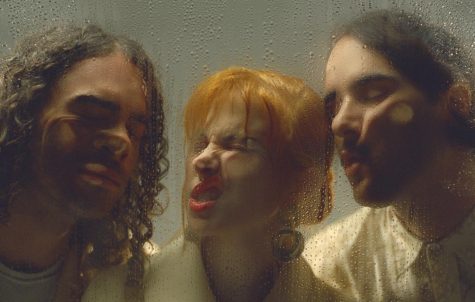 Mini Album Review
In anticipation of their new music and tour (which I may or may not attend), I have listened to their self-titled album in full (which I have never done previously), and it does stand out among their discography. Many claim this album is their greatest project, and I attest to that (although I have not listened to any of their other albums in full, so this may be a pre-emptive statement). The sound of this album is more dreamy, with guitars comparable to tones you'd hear from My Bloody Valentine, Slowdive, or several other shoegaze bands. This is thanks to the production by Justin Meldal-Johnsen, producer for artists such as M83, Beck, Nine Inch Nails, and other such groups. This airy ambiance can be heard especially on songs like ''Future'' or ''Last Hope'', and as anthemic or pop-oriented as some of these songs are, they are backed by talented musicians and a highly talented female vocalist. This is a refresher from most pop heard today, as they do not rely on simple catchy beats and rise above the standard for pop music. Hits like ''Ain't It Fun'' or ''Still Into You'' are instantly recognizable, whether you are a fan of the band or have listened to early 2010s music and it entrances you in a bout of nostalgia. I give this album a light 7, as it is a great album in its own right, but it is an emo-pop-punk group from the 2010s. This allows for some songs to sound extremely dated, but if you're a big fan of the group, I doubt it hinders the experience.