Remembering Pharoah Sanders
Amin Shah, Arts & Entertainment Editor
October 5, 2022
Pharoah Sanders was a legend in his own right. His influence on modern and contemporary jazz was impeccable and his free jazz-style was a notable part of that influence. While underrated due to contemporaries like John Coltrane and Miles Davis (as well as the burst in the rock scene occurring in the '60s), he remained in a lane of his own, not taken in by mainstream audiences, but not lost to obscurity as well. He was a cult classic jazzist who continued to work and produce music until his final days. He passed away on the 24th of September, but his influence will never pass.
Mini Biography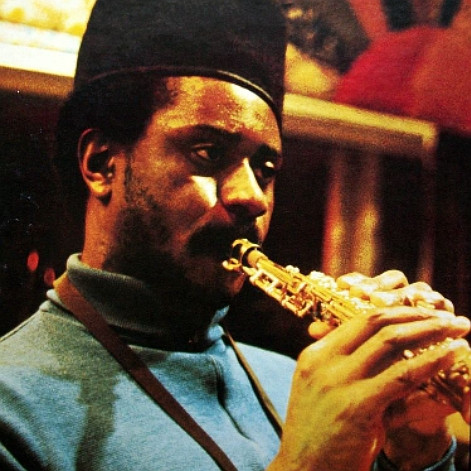 Pharoah Sanders (real name Ferell Sanders) was born in 1940 in Little Rock Arizona into a musical family. He began with playing the clarinet, but switched to his iconic tenor saxophone in high school on account of his newfound love for jazz. Some of his inspirations included John Coltrane (who he would later play with), James Moody, Sonny Rollins and Charlie Parker. He moved to New York in 1961 where he struggled for a period of time to find true success as a free jazz musician, but in 1964, during a gig with his band, Coltrane happened to be there and was interested in his playing. Sanders began to sit in with Coltrane's band and soon enough became a regular member (although never officially). The two made jazz that was out of touch with many traditional jazz listeners but incorporated many new elements of jazz that would progress the genre to where it is today, with its free expression and straying from traditional time signatures. Throughout the '70s and '80s after the death of Coltrane, Sanders began many solo ventures and some were successful (while others were not so much). He also did group work as a leader of his own group and created the critically acclaimed duo-album ''Journey in Satchidananda'' in 1971 with Alice Coltrane. As he matured, he began to play with a lot more versatility in his music, as he could go from free form jazz to mainstream and other such forms. The last album he released before his passing was ''Promises'' in 2021 with Sam Shepherd (known better as Floating Points), which stood as one of (if not the greatest) jazz album of that year. Critics believed the same, as it attained critical acclaim among many music reviewers and within the music community in general.
Top 5 Pharoah Sanders Songs
It is very difficult to pin down the greatest songs by Pharoah, as there are a lot more than just 5 that deserve the title of some of his greatest works, but these are some that you should most definitely listen to if you are interested in stepping foot within the vast work of Sanders without spending too much time on the basis of what is better than the other. These are the essential pieces.
5. High Life
This track is on his album ''Wisdom Through Music'', which stands as one of his greatest albums. Jazz along with African (specifically rumba) elements intertwine, giving for a very upbeat, down to earth song that is very drum oriented with only a few hints of sax.
4. Astral Traveling
This track is on his album ''Thembi'', and it is a very calm work compared to some of his other pieces. There are abstract instrumentation elements, but it is largely a smooth jazz song, one of the more mainstream songs during this period of time in his career (and even so it strays away from many conventions of traditional jazz, just more subtlety than some of his other pieces).
3. Love is Everywhere
This is another track from his album ''Wisdom Through Music''. It continues the upbeat rhythm that ''High Life'' contained, also continuing the essential use of percussion instruments. Instead of fully relying on them this time though, the piano is accentuated for the vocals of Sedatrius Brown to flow roughly on (intentionally). The message of the song (which is a repetition of the title) is driven greatly through the uplifting instrumentation found within the track.
2. Movement 6
This track was from his latest album ''Promises'' (technically a co-album with Floating Points). It stands to be his most popular piece (at least by viewing the comparison in listens through Spotify) and for good reason. The combination of Sanders' sax with the orchestral arrangement behind it gives a drastic contrast between the two styles of instrumentation that almost impossibly blends thanks to the piano chords in between. It stands as one of his most powerful pieces and the orchestral strings are a big reason behind that.
1. The Creator has a Master Plan
This track is from his 2nd album ''Karma''. One could say he is at his peak at this track (not to say he had gotten worse, but that he would have never reached another peak like that again). This is his magnum opus in terms of instrumentation, soul, arrangement, expression, and contrast to the rest of the jazz world during this time. This whopping 32 minute piece has high energy moments, low energy moments, and all in between, offering for an enlightening experience that one can only compare to tracks such as ''The End'' by the Doors or ''Echoes'' by Pink Floyd, only so much more impactful to its genre of music. Not only does his saxophone playing shine through in this track, but so does Leon Thomas' vocals, something not too frequently used in such a way in many jazz pieces. The voice itself becomes an instrument, not simply a vessel to deliver lyrics, but a device for the soul to speak, which is what Pharoah wanted to stand out.
Some of these tracks are intimidating (especially the last one), but if one truly wants to enrich themselves within the world of jazz (especially free, non-traditional jazz), this would be a great place to begin.