10 Great Reads for Hispanic Heritage Month
LOOKING FOR SOMETHING TO READ DURING HISPANIC HERITAGE MONTH? TRY ONE OF THESE GREAT BOOKS! SEE MS. ROSARIO IN THE LIBRARY, OR ONE OF YOUR ENGLISH TEACHERS IF YOU'D LIKE TO TRACK DOWN A COPY!
FURIA by Yamile Saied Méndez
From School Library Journal: Seventeen-year-old Camila "Furia" Hassan navigates a world of lies in Rosario, Argentina. At home she plays the respectful and innocent daughter who is dedicated to learning English and attending medical school. Obedient to her abusive father, loyal to her rising-soccer-star brother and dedicated to her overwhelmed mother, Camila does not show her true colors. The headstrong Latina has dreams of her own: To earn a scholarship to a university and play soccer in the United States, to stick up for women's rights in her beloved hometown, and to pursue her own relationship with Rosario's local soccer hero and international heartthrob Diego "El Titan" Ferrari. Through Camila's first-person narrative, readers learn about her conflicting feelings as a daughter, athlete, and friend, while she struggles to define her priorities. With a mix of Spanish words, vivid dialogue, and rich description, Mendez paints a realistic image of a young woman battling to become herself against the odds.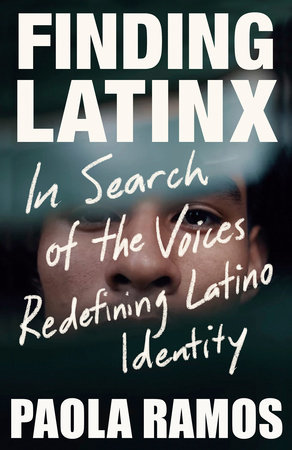 Finding Latinx: In Search of the Voices Redefining Latino Identity by Paola Ramos
From the Publisher: In this empowering cross-country travelogue, journalist and activist Paola Ramos embarks on a journey to find the communities of people defining the controversial term, "Latinx." She introduces us to the indigenous Oaxacans who rebuilt the main street in a post-industrial town in upstate New York, the "Las Poderosas" who fight for reproductive rights in Texas, the musicians in Milwaukee whose beats reassure others of their belonging, as well as drag queens, environmental activists, farmworkers, and the migrants detained at our border. Drawing on intensive field research as well as her own personal story, Ramos chronicles how "Latinx" has given rise to a sense of collectivity and solidarity among Latinos unseen in this country for decades. A vital and inspiring work of reportage, Finding Latinx calls on all of us to expand our understanding of what it means to be Latino and what it means to be American. The first step towards change, writes Ramos, is for us to recognize who we are.
CEMETERY BOYS by Aiden Thomas
From Goodreads: Yadriel has summoned a ghost, and now he can't get rid of him. When his traditional Latinx family has problems accepting his gender, Yadriel becomes determined to prove himself a real brujo. With the help of his cousin and best friend Maritza, he performs the ritual himself, and then sets out to find the ghost of his murdered cousin and set it free.However, the ghost he summons is actually Julian Diaz, the school's resident bad boy, and Julian is not about to go quietly into death. He's determined to find out what happened and tie up some loose ends before he leaves. Left with no choice, Yadriel agrees to help Julian, so that they can both get what they want. But the longer Yadriel spends with Julian, the less he wants to let him leave.
THE POET X by Elizabeth Acevedo
From School Library Journal: Magnificently crafted, Acevedo's bildungsroman in verse is a stunning account of a teen girl's path to poetry. Sophomore Xiomara Batista is simultaneously invisible and hyper visible at home, school, and in her largely Dominican community in Harlem—her body is "unhide-able" she tells readers early on, yet she bristles at how others project their desires, insecurities, failures, patriarchal attitudes toward her. Though she is quick to battle and defend herself and her twin brother Xavier, Xiomara's inner life sensitively grapples with these projections and the expectations of her strict, religious mother.
JULIET TAKES A BREATH by Gabby Rivera
From the Publisher: Juliet Milagros Palante is a self-proclaimed closeted Puerto Rican lesbian from the Bronx. Only, she's not so closeted anymore. Not after coming out to her family the night before flying to Portland, Oregon, to intern with her favorite feminist writer–what's sure to be a life-changing experience. And when Juliet's coming out crashes and burns, she's not sure her mom will ever speak to her again. In a summer bursting with queer brown dance parties, and intense explorations of race and identity, Juliet learns what it means to come out–to the world, to her family, to herself.
WE ARE NOT FROM HERE by Jenny Torres Sanchez
From Goodreads: Pulga, Chico, and Pequeña have no false illusions about the town they've grown up in and the dangers that surround them. Though their families–both biological and found–create a warm community for them, threats lurk around every corner. And when those threats become all too real, the three teens know they have no choice but to run: for the border, for the hope of freedom, and for their very lives. Crossing from Guatemala through Mexico with their eyes on the U.S. border, they follow the route of La Bestia, a system of trains that promise the hope of freedom–if they are lucky enough to survive the harrowing journey. With nothing but the bags on their backs and the desperation that courses through their very veins, Pulga, Chico, and Pequeña know that there's no turning back, dangerous though the road ahead might be. In this story inspired by real–and current–events, the plight at our southern border is brought to life.
Solito: A Memoir by Javier Zamora
From the Publisher: Javier Zamora's adventure is a three-thousand-mile journey from his small town in El Salvador, through Guatemala and Mexico, and across the U.S. border. He will leave behind his beloved aunt and grandparents to reunite with a mother who left four years ago and a father he barely remembers. Traveling alone amid a group of strangers and a "coyote" hired to lead them to safety, Javier expects his trip to last two short weeks. A memoir as gripping as it is moving, Solito provides an immediate and intimate account not only of a treacherous and near-impossible journey, but also of the miraculous kindness and love delivered at the most unexpected moments. Solito is Javier Zamora's story, but it's also the story of millions of others who had no choice but to leave home.
In The Country We Love by Diane Guerrero
From the Publisher: Diane Guerrero, the television actress from the megahit Orange is the New Black and Jane the Virgin, was just fourteen years old on the day her parents were detained and deported while she was at school. Born in the U.S., Guerrero was able to remain in the country and continue her education, depending on the kindness of family friends who took her in and helped her build a life and a successful acting career for herself, without the support system of her family. In the Country We Love is a moving, heartbreaking story of one woman's extraordinary resilience in the face of the nightmarish struggles of undocumented residents in this country. Written with bestselling author Michelle Burford, this memoir is a tale of personal triumph that also casts a much-needed light on the fears that haunt the daily existence of families likes the author's and on a system that fails them over and over.
My Beloved World by Sonia Sotomayor
From the Publisher: The first Hispanic and third woman appointed to the United States Supreme Court, Sonia Sotomayor has become an instant American icon. In this story of human triumph that "hums with hope and exhilaration" (NPR), she recounts her life from a Bronx housing project to the federal bench, a journey that offers an inspiring testament to her own extraordinary determination and the power of believing in oneself. Here is the story of a precarious childhood, with an alcoholic father (who would die when she was nine) and a devoted but overburdened mother, and of the refuge a little girl took from the turmoil at home with her passionately spirited paternal grandmother. But it was when she was diagnosed with juvenile diabetes that the precocious Sonia recognized she must ultimately depend on herself. She would learn to give herself the insulin shots she needed to survive and soon imagined a path to a different life. With only television characters for her professional role models, and little understanding of what was involved, she determined to become a lawyer, a dream that would sustain her on an unlikely course, from valedictorian of her high school class to the highest honors at Princeton, Yale Law School, the New York County District Attorney's office, private practice, and appointment to the Federal District Court before the age of forty.
I Am Not Your Perfect Mexican Daughter by Erika L. Sanchez
From the Publisher: Perfect Mexican daughters do not go away to college. And they do not move out of their parents' house after high school graduation. Perfect Mexican daughters never abandon their family. But Julia is not your perfect Mexican daughter. That was Olga's role. Then a tragic accident on the busiest street in Chicago leaves Olga dead and Julia left behind to reassemble the shattered pieces of her family. And no one seems to acknowledge that Julia is broken, too. Instead, her mother seems to channel her grief into pointing out every possible way Julia has failed. But it's not long before Julia discovers that Olga might not have been as perfect as everyone thought. With the help of her best friend Lorena, and her first love, first everything boyfriend Connor, Julia is determined to find out. Was Olga really what she seemed? Or was there more to her sister's story? And either way, how can Julia even attempt to live up to a seemingly impossible ideal?