AMHS Welcomes New Staff Members!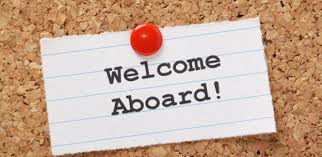 The ECHO would like to introduce you to some of the new staff members in the buidling. If you're new and would like to be included, please reach out to us through email and we'll add you in future spotlights!
We asked everyone the same three questions:
1. What is your position as a staff member?
2. Could you share a few fun facts with us?
3. What is your favorite thing about Amityville High School so far?
 * * * * * * *
Ms. Breitfeller (The kids call me Ms. B.): I teach art (Studio in Art, Drawing and Painting, Computer Graphics 2, and Digital Photography) I am also the Art Club Advisor. I love being involved in the school district. When I was in high school, I was in lots of clubs, organizations, and the marching band. Fun facts about me: Outside of school I curate art shows, I am a kickboxer, I play beach volleyball in the summer months, and I have two very loving cats at home. My favorite thing about Amityville so far is how diverse the student population is. I also love that even though all the people here are from different backgrounds, we do look out for each other. I know high school can be a hard time for some students, but I want to give them a classroom where they can embrace art, express themselves, have fun, and learn a little something.
 * * * * * * *
Ms. Delgado: I am currently teaching ENL/ELA Language & Literature. This is my first year in the district. I previously taught ELA grades 7-12 in Brentwood for 12 yrs. Aside from teaching, I was also the advisor for Student Government, The Future Teachers of America, Debate, GSA, the Brentwood Pow-Wow Newspaper, and the Community School program through the Family Service League.  Fun facts about me: I'm an avid reader and love films (especially Alfred Hitchcock and everything 80's), music, and all things Wonder Woman. Butterflies are my spirit creature, Tinkerbell my spirit guide, and the Yankees are how I stay connected to ALL the spirits of my ancestors (at least on my dad's side of the family). 😉 Everyone has been really welcoming and spirit week was a blast! I absolutely LOVED helping organize the LatinX Heritage Read-in, and Speak Out and am tremendously proud of all the students who participated. I hope the Dia de Los Muertos/ Day of the Dead display is a hit and we collect lots of food for Island Harvest. Looking forward to all the fun yet to come. Go Warriors!
 * * * * * * *
Ms. Gordon: This is my sixth year as a teacher; I was previously working for the NYC DOE in Brooklyn. I am currently teaching English 9 and English 12 here in Amityville. Fun facts about me: 1. I graduated from Amityville High School, 2. I have a pet cat named Wolverine, 3. Before I became a teacher I worked in affordable housing at the non-profit Habitat for Humanity of Suffolk My favorite thing about Amityville High School so far is getting to know the students and working with the Class of 2026 as their advisor.
* * * * * * *
Mrs. Jordan: I currently teach Computer Graphics, Animation, and Fashion (art department). I've been a teacher for 10 years. I've taught many different types of art to kids as little as 4 all the way up to 18 (high school's my favorite that's why I'm here) and in many different areas from East New York to Oyster Bay. Fun facts about me: I'm also a certified special education teacher and have taught 6th grade ELA. I love baking (pies and baklava are my specialties); huge animal lover (dog owner); big horror fan; Married with twin 4-year-olds (1 boy,1 girl). My favorite thing about Amityville is def the students – they make me laugh every day.
 * * * * * * *
Ms. Zachary: I am an English as a New Language (ENL) teacher. Before joining the staff here, I taught ELA and ENL in Brooklyn and Manhattan for 10 years. A few fun facts about me: 1. I am a weightlifting coach for adults 2. I was a student in the Amityville School District from kindergarten to 8th grade 3. I have had many jobs outside of education, including publishing, marketing/social media, restaurants/hospitality, fitness and corporate recruiting. 4. I have 2 kids 3 years old and 7 months old and 1 dog. My favorite thing about Amityville High School so far is our diverse student body.
* * * * * * *
Ms. Basu: I am an ENL teacher. I just got married. I love cooking. I worked in middle school for 5 years. I like my classes at the high school!
* * * * * * *
Ms. Rivera: Hola, my name is Jennifer Rivera, I am one of the new school counselors at Amityville Memorial. My first year in the district, I worked for the Department of Education for 18 years. A few fun facts about me: I am a pescartarian/vegeterian, I love the sun but also enjoy the dark, I love reading but do not enjoy being read too, I love smiling, it keeps the wrinkles away and my favorite food is pizza! My favorite thing about Amityville Memorial High School so far has been walking the hallways and meeting members of my new school community.
 * * * * * * *
Ms. Ramirez: I am an intermediate Algebra teacher in the math department. A few fun facts about me: I have three dogs, one for each one of my girls, and I have a cat. My favorite thing about Amityville Memorial High School so far has been the welcoming from the teachers, and their help.
 * * * * * * *
More profiles to come!