Hurricane Ian Strikes Florida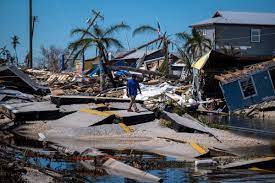 Residents in Florida are still recovering from Hurricane Ian a month after it made landfall. This hurricane arrived as a category four, and caused an incredible amount of damage to the state. Historical flooding wiped out many homes and state property. Also because of the flooding that took place, there disease has started to spread in the water since it's filled with debris. Those who did not get affected by the flooding, were affected by power loss in their homes. Strong winds knocked down power lines and objects smashed into peoples homes causing property damage. Puerto Rico has also been affected by Hurricane Ian and there have been a number of advocates stepping up to help ship goods to  residents who have been affected by the storm.
Some Fast Facts
Hurricane Ian is the second-deadliest storm to strike the continental U.S. this century.
Hurricane Ian made its initial landfall as a Category 3 storm in Cuba on September 27, 2022, knocking out power to the entire island.
Ian strengthened to a Category 4 storm as it made landfall west of Fort Myers, Florida, on September 28, 2022.
Only four Category 5 storms have made landfall in the U.S. with maximum sustained winds greater than 155 mph.