"Hamilton" – An Unforgettable Experience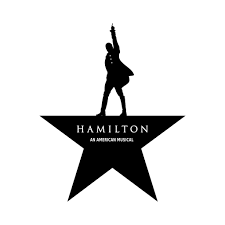 Quotes from Students
"I loved it, it was absolutely amazing I want to go again. The choreography, the music and everything…the backup dancers and props had a certain place and just brought the show together." 
"I think the show was definitely an experience and I'm glad I got the opportunity to go to. The cast really brought energy to the characters individually and the show as a whole. I was immersed the whole time." 
"I think my favorite part of the whole trip was waiting in line…the anticipation, making jokes, being excited and laughing with my friends. The place was was pretty crowded but still, the show was amazing. Now the show, oh my gosh, after Hamilton died (and even when her son died) Eliza's performance was so capturing and it made you wanna tear up a little, it was really nice. The cast's performance was great." 
"Waiting in line was more than worth it."
"It was really an indescribable feeling I felt by the time I reached the end of the play. As my first Broadway show, it got me hooked. I cried at least 3 times (poor Eliza), something I haven't done for a piece of media since finishing Eternal Sunset of a Spotless Mind. The combination of poetry with live instruments, dance, history, and acting all intertwined so perfectly. Every character had unique traits that got me hooked. Hamilton's killer (spoiler alert, he dies) Aaron Burr, turned out to be my favorite. His tale was so tragic yet history displays it in such a one-sided perspective, it truly is sad to see. Hamilton wasn't the saint many believe him to be, but I would be lying if I said he wasn't one of the most likable characters. Don't even get me started on Lafayette's portrayal, he had me dying [laughing really hard]. I really understand what Schulken meant when she said she could see this play every day if she could, it is truly a once-in-a-lifetime memory, especially with so many of my friends and some of my favorite teachers there." 
"For short, it was worth the wait and it was definitely better than the film. Seeing it in person was…an experience of its own, and I would definitely go back and watch it again." 
"I thought it was great! The show was obviously awesome, the cast was way better than the original in my opinion. I felt happy, excited, sad, and inspired after watching Hamilton. I think the long bus ride was worth it. " 
"Schulken's lessons finally make sense." 
"It was amazing to see the events that impacted history forever be shown in a way that is full of life and shows its importance even in today's times." 
"I felt like I was on the edge of my seat the whole performance, there was so much energy brought to the stage I almost felt like I was in the performance myself or living through the lives of the characters, it was an experience I wish everyone could have…" 
"It made me see history in a new light. Watching the actors with their emotions and passion really helped me to connect to the characters like never before. I cried, that's how good it was. It brought me to tears because I realized that they are not just some people in our textbook. They came before us, they were real humans with real lives and real struggles…far from perfect…but despite everything they persevered and built the foundation for our country. This play increased my reverence and admiration for these men and women. "Amazing" hardly describes this experience. I absolutely loved it."
Background
Hamilton took Broadway by storm in 2015. After hundreds of live performances, several worldwide tours, and 11 Tony awards, the show is still a breathtaking phenomenon. The historical play follows the founding of the United States from 1776 until 1804 and features historical characters Alexander Hamilton, Aaron Burr, Marquis de Lafayette, George Washington, Thomas Jefferson, John Adams, James Madison, and more.
Nearly every year, Mrs. Schulken's AP U.S. History classes get the rare opportunity to attend the Broadway performance. "We went in the fall of 2018 (November) and 2019 (December). We did not go in 2020 or 2021, Broadway was closed during the pandemic[…]The EduHam shows reopened in April 2022 (we went to a show then) and we went yesterday. I continued to do the EduHam Online Program during COVID and had my students complete the project anyway [to be able to attend, students needed to complete a Hamilton-inspired project]. I was still able to submit projects to a National competition and we watched Hamilton on Disney+." she said. Instead of having to pay a pretty penny for a ticket, through the Hamilton Education Program by the Gilder Lehrman Institute of American History, (thanks to the generous support of The Rockefeller Foundation), AMHS students were able to go see the play sans the expensive ticket.
Overview of the Play
Through their clever play on words throughout the musical, along with the incorporation of modern aspects of music, a beautifully diverse cast (representing our now multi-racial country), and comedy being sewn into the script, the producers did a wonderful job of reaching our modern audience. History can often feel distant and hard to relate to because of the large gap in our culture as well as language and lingo (plenty of students can attest to this fact, I mean, have YOU ever tried reading an excerpt from an 18th or 19th-century document? Not always 'super easy' to decipher…). Sometimes, students just need a different perspective, a more personal or relatable approach. Hamilton achieved just that. The play was so expressive and informative that for a moment, it felt as if we were there experiencing everything alongside these figures.
The hours it took to travel to the city and back was worth it. SO worth it. The lyrics had students singing, laughing, and even crying. A stir of powerful feelings created such a heartfelt atmosphere in the theater, they received (and deserved) our standing ovation. Many people agree that Hamilton is the greatest musical ever written. Even our former First Lady, Michelle Obama, called Hamilton the best work of art she has seen in her life. The play is so wonderfully dense with layers of different themes, storylines, plots, and problems all entangled into one perfect enactment of our country's imperfect history.
Critics have called Hamilton the first hip-hop musical, but it is much more than that. There is definitely loads of hip-hop, with a lively beat and spot-on rhyming. But, Hamilton uses the entire American songbook in its toolbox. There's reggae ("The Story of Tonight"), blues ("What'd I Miss?"), ballads (such as "One Last Time"), barbershop harmony ("Washington on your Side"). "The Room Where It Happens" starts as a pick-and-strum number, an original from the artists Flatt & Scruggs, but the song morphs into a powerful gospel piece when it reaches its climax. Arguably, the most beautiful-yet-saddest song in the entire collection is an Irish lament: "Burn", sung by Eliza (Hamilton's wife/widow) when she reads of Hamilton's infidelity in his self-published pamphlet. Their extraordinary range of American musical styles is a reflection of Hamilton's subordinate theme: a love letter to America. Throughout Hamilton, America shows itself to be big, brawling, diverse, contentious, loud, joyous, powerful, and full of love, much like our music and culture today.
Representing History
It's important to recognize that there are some historical inaccuracies in Hamilton. One of the most noticeable ones was that the election of 1800 was not the cause of the duel between Burr and Hamilton, which they fought in 1804. However, we can forgive these modifications since they help the musical move and dramatize the conflict. Hamilton deals with America's original sin, slavery, by emphasizing Hamilton's abolitionism, but New York didn't abolish slavery until 1827. Also, Hamilton makes an effort to mention the contributions of immigrants to the foundation of this nation (highlighting Hamilton and Lafayette), ironically since the true Alexander Hamilton was actually supportive of John Adams' anti-immigrant Alien Act (a terrible law). It's understandable why these facts were omitted though, because Hamilton is an aspirational story. It was designed to show us not just what we WERE but what we COULD be. People understand that slavery was not abolished nationwide until Founder of America, Abraham Lincoln, issued the Emancipation Proclamation; we know that segregation was not outlawed until Founder of America, Martin Luther King, persuaded us to do so. America is a country that is constantly being renewed. Each generation brings change, progress, and revival. There is evident chaos, turmoil, and force behind this perpetual birth, errors upon eros, too. Still, America prevails in the face of her trials and tribulations.
(Some of the) Best Quotes from the Play
The song, "Who lives, Who Dies, Who Tells Your Story?" in the final act will always hit deep. Essentially, its core theme is legacy. The truth is that we have little or no control over the way others choose to remember us, but we do have control over what we do in our lives now. I also love how they shine light on overlooked faces in history, giving credit where it's due. Eliza, finding her voice and courage, tells Alexander's story. In memory of Hamilton, the orphan, she went on to establish the first private orphanage in New York and helped raise hundreds of children. It's the part of his legacy she says she's proudest of — but as founder and director of the orphanage herself, it's part of her legacy, too.
"Who lives, who dies, who tells your story?" – George Washington
"I'm just like my country, young, scrappy, and hungry." – Alexander Hamilton
"Life, liberty and the pursuit of happiness. We fought for these ideals we shouldn't settle for less." – Thomas Jefferson
"Look at where you are. Look at where you started. The fact that you're alive is a miracle. Just stay alive, that would be enough." -Eliza Hamilton
"Talk less. Smile more." -Aaron Burr
"I am not gonna waste my shot." – Alexander Hamilton
"Dying is easy, young man, living is harder." – George Washington
"Look around, look around, at how lucky we are to be alive right now." – Eliza Hamilton
"Raise a glass to freedom, something they can never take away." – John Laurens
"If you stand for nothing, Burr, what will you fall for?" – Alexander Hamilton
"I may not live to see our glory. But I will gladly join the fight. And when our children tell our story, they'll tell the story of tonight." – Alexander Hamilton
"Death doesn't discriminate between the sinners and the saints, it takes and it takes and it takes. And we keep living anyway, we rise and we fall and we break and we make our mistakes." -Alexander Hamilton
"Every other founding father's story gets told. Every other founding father gets to grow old."
– Angelica Schuyler
"What would you do if you had more time?" – Eliza Hamilton