Amityville Boys Soccer Wins State Championship!
The word CHAMPION comes from the Latin campionem, meaning gladiator, or fighter. It also means a person who fights for a cause, or on behalf of someone else. The Amityville Boys Varsity soccer team is the living embodiment of that word, fighting for redemption on their self-described "revenge tour," and fighting for each other with every minute that they play. Their huddles always end with the chant, "FAMILY!" and it's clear this team will fight for the success of each other just as any family member might fight for their own.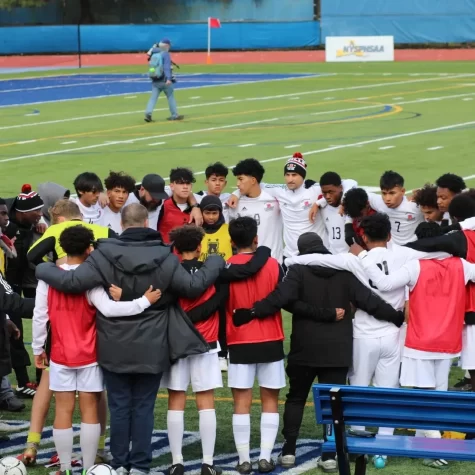 That fighting spirit carried them to win their seventh Suffolk County championship (two seasons in a row) and then their fifth Long Island championship, before finding themselves back at the place which left them reeling from a loss to Somers in the 2021 state final. They billed it as a revenge tour. And they found both revenge and redemption over the course of the weekend, dominating teams in both the semifinal and final match.
When asked about their time at States, Head Coach Mike Abbondondolo said, "This past weekend was such a great experience for the boys and the entire community. This season we worked extremely hard to achieve our goal of becoming state champions and learned many great things along the journey."  
Assistant Coach Chris Gannon told us, "We started with the mantra earlier in the week that state championships last forever, and we think that really got the group to believe that their skill set on full display could not be matched. We were ready, it's just a massive performance from kids who felt embarrassed getting gutted by Somers in the closing minutes last year. We were 4-2 in that 2021 final; pressing for the third sending them home at Somers, unfortunately their All American took us out in the end."
As the Warriors took to the turf against Spencerport at Monroe-Woodbury High School in Central Valley on Saturday, Stanley Louis was the first to find the net, scoring off an assist from Roberth Perez with just over 10 minutes left in the half. Louis scored again in the second half, putting the Warriors up 2-0. Horace Hibbert headed in a rebound with 1:15 left in the game, and Amityville punched their ticket to the State Final against Beacon in Sunday's 1 p.m. championship game at Middletown High.
Family, friends, faculty, and alumni all cheered on the Warriors as they celebrated another big win. Members of the highs school administration team cheered on the team along with chartered buses of students which were made available for the semifinal and final game. When asked why she decided to attend the weekend's games, Ms. Rosario, AMHS librarian said, "If you're looking for one (oftentimes more than one) of the soccer players, there's a good chance you'll find them in the library. The reasons vary from a broken Chromebook, looking for a snack or needing someone to talk to. It's in these times that I have grown to know and love these kids. I couldn't miss the opportunity to support them at States."  (Ms. Rosario also added, "I admittedly know very little about soccer, but Alan's fancy feet were so impressive!") 
CHAMPIONSHIP GAME
The Warriors arrived at Middletown High with determination written all over their faces. Hugo Rodriguez scored an early goal, much to the delight of the roaring crowd, and then Horace Hibbert made it 2-0 with just five minutes left in the first half. Rodriguez scored again in the 22nd minute of the second half, off an assist from Stanley Louis who then put a 4th goal on the board with eight minutes left in the game. Goalkeeper Matthew Katz made four saves, and the Amityville defense held strong, enabling the strikers to press for goals when it mattered. They were State Champions, again, and forever
The stands were again filled with Amityville supporters made up of family, friends, faculty, and alumni, all in anticipation of an exciting championship game. When asked why she decided to make the trip upstate, art teacher, Ms. Rickard said, "I love supporting my students and the team. It's an energetic atmosphere, and an overall great time– especially when they're playing for a state championship!" Ms. Scherzinger could be heard starting many of the group cheers, and Mr. Ammirati and security guard Mike survived the loud cheers from a section that included Ms. Keenan, Ms. Rickard, Ms. Rosario, and Ms. Katsigiorgis. Miss Carol nearly lost her voice at the start of the second half, but that didn't keep her from continuing to cheer on the team. 
After the game, Roberth Perez was quoted in Newsday as saying, "We played our best game of the season right here when it counted the most. Every game, we've played better than the last. That's what championship teams do, play better [as] the games get more important."
When asked about Amityville's soccer program, Coach Gannon stated, "It's incredible, three state championships in an 8 year span, five Long Island titles, five trips to Middletown– historic dominance." Coach Abbondondolo added, "Being #1 in the New York State and #18 in the nation takes more than just good, skilled players. The dedication, commitment and mental energy it takes to achieve such success is commendable. We are so proud to bring the championship back to Amityville!
Super-fan, Miss Carol, also helped put things into perspective for us, stating, "You can't score a goal if you don't take a shot… It was so exhilarating to watch this fabulous group of boys play their hearts out. I could not have been more proud of their determination and teamwork. WE are the Champions!"
The Warriors closed out their season with a record of 20-1-1 and we can't wait to celebrate them!