Entergalactic: Kid Cudi's Venture into Film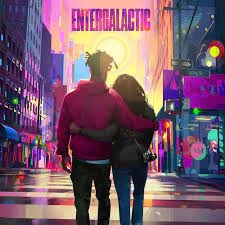 Amin Shah, Arts & Entertainment Editor
December 5, 2022
Kid Cudi has previously been featured in movies such as ''X'' and ''Don't Look Up'' being more recent examples, but outside of his documentary ''A Man named Scott'', he hasn't been given the spotlight in terms of its creation or being a central element to it. ''Entergalactic''changes that, as it features him as the main character ''Jabari'' alongside an all-star cast featuring Jessica Williams, Laura Herrier, Timothee Chalamet, Macaulay Culkin, 070 Shake, Ty Dolla $ign, Jaden Smith, Keith David and others. It is an amazing slice-of-life Netflix exclusive that was released as a visualization of the album of the same name, both released on September 30th of 2022. As to not spend too much time mulling over details, a brief review of both the film and album will be given. 
The Film
The film is surprisingly great. As Cudi is just venturing the field of story creation outside of his albums, one would have expected his first feature film to be slightly mediocre but not too bad, but this blew my expectations out of the water. The film is beautifully animated in a mesh between 2d and 3d, akin to the animation of ''Into the Spiderverse'' or the critically acclaimed ''Arcane'', giving a vibrance that completely fits the tone of the movie. 
The plot itself follows a ''bachelor'' Jabari who recently moved to Manhattan and is trying to adjust to his job in a comic production company, incorporating his graffiti character ''Mr. Rager''(a reference to his second ''Man on the Moon'' album's alter ego) into a ''digestible 'fashion for wide audiences while dealing with his ex who doesn't know how to let go. While living a single life with his friends Ky (Ty Dolla $ign) and Jimmy (Timothee Chalamet), he discovers a new love interest (who is also his neighbor) Meadow (Jessica Williams). She is also a pursuing artist who is attempting to have her art displayed at galleries and rise to fame in the competitive art environment of the city.
It really sounds like a generic romantic slice-of-life, and it is, but it is executed so beautifully one can't help but love it. The mix of adult themes/comedy with lively animatedness offers it a movie that not only breaks away from the ''cleanliness'' of such movies but offers a relatable view into such a lifestyle and the culture of the time and area. The beautifully animated scenes of him in his headspace, whether it be running away from his graffiti creation or him daydreaming of floating in space while riding his bike through the streets of Manhattan, offer an amazing visual aesthetic that makes the movie a warmth not many other movies of the type has. It is a great movie for every season, every hangout, and even just to play in the background (unless you're with family, and if that's the case, just be warned of some explicit scenes). I would give this movie a strong 8.
The Album
Now for the album, there is a different story. Not a negative one, just slightly more critical. Kid Cudi, as most know, is a critically acclaimed rapper and music artist known for revolutionizing hip-hop and paving the way for artists like Travis Scott and Mac Miller to have been born and made famous. Under mentorship by Kanye West, he was bound to be a great musician, but many believe he surpassed his heights a while ago. I understand why, as not many albums can top his first two ''Man on the Moon'' albums, but he still has a great spark in him that is rare in many other artists today. 
The album itself is not one of his strongest, but it is still a consistent album in terms of tone and strength of songs. They all scream Kid Cudi, but that may be the problem. No song stands out like ''Pursuit of Happiness'', ''Erase Me'', or even ''Surfer'' on one of his more recent albums. All of these songs had great elements that made them stand out to the listener. These songs have great and unique elements/flows as well, but in comparison to one another, they just begin to sound a little too similar the longer one goes on. Even the features sound a little repetitive while artists like Don Toliver, Ty Dolla $ign and 2 Chainz are some of the greatest feature rappers in today's rap game and are featured on this album. They sound great but don't add much to the song or album as a whole. 
Don't get me wrong, songs like ''Do What I Want'', ''Willing to Trust'', ''Livin' My Truth'', and even the first song of the album that serves as its ''theme song'' all sound great. It's just that too many filler songs seem to surround it. In the context of the movie, they are all used to great effect, but as a standalone album, it just misses the mark for an album like Kid Cudi. I would give this album a light 6.