Who are the Deftones?
Amin Shah, Arts & Entertainment Editor
December 22, 2022
If you've lived under a rock for the past few years, the Deftones is a band that formed in California in 1988. Although that was a while ago, they have only recently gained a cult following thanks to apps like Tiktok or the use of Instagram and Youtube shorts using Deftones songs as audio. Even with such a surge, so many only know them for their hits like ''My Own Summer (Shove It)'' or ''Cherry Waves''. They are so much more than just that and this article is essentially the urge to justify that point. 
To not tread on too many details, the band formed in Sacramento in 1988 with the original lineup of vocalist and rhythm guitarist Chino Moreno, lead guitarist Stephen Carpenter, drummer Abe Cunningham, and bassist Dominic Garcia, who has since left. Frank Delgado is the current keyboardist for the band. They also have no bassist, as the most recent fallout within the group occurred with the former member Sergio Vega, claiming the band is simply pumping out music to fill a ''status quo'' and that it took away the original feeling of being ''included''. That is up to debate for those within the group and close to them, but even so, their music speaks for itself.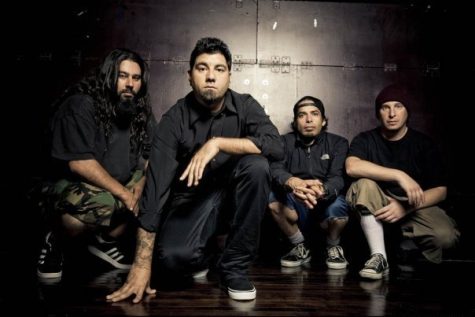 Their music would initially be described as metal to a new listener, but taking a dive into their discography proves they are much more than that. Only having listened to 3 of their albums in full I have come to realize that fact. The blend of their loud metal highlights and deep melodic undertones creates a great fusion of truly meditative music which can exemplify many different emotions and moods. Having Chris' vocally-ranging voice superimposed on top of the instrumental bliss featured in most of their music just completes it all in a great symphony that is simply impossible to replicate.
Such noise is so great that it may come off as repetitive to some. At least it did to people like me. A whole album of their music may not be for the initial listener to experience, as the ordeal is akin to listening to an entire Coldplay album. The songs tend to merge with the next the more you get into the album as their style is similar in many of their songs within the same album, which makes the albums distinct from one another, yet the songs could be a little too similar at times. But that is a personal nitpick that many may disagree with.
They are the most refreshing thing to happen to metal during the period of oversaturated heavy riffs and constant screaming, melodically drained  vocals. They reinvigorated the genre and inspired acts like Glassjaw, Loathe, and even The Weeknd, as he cited them as one of his main inspirations for his early work. Although their newer music is not as good as some of the early peaks they've reached in the past (specifically their newest album ''Ohms'', which has received generally positive reviews but has not had the same impact as albums like ''White Pony'' or ''Saturday Night Wrist''), when does that ever happen for an artist? (I'm only mostly joking). That doesn't mean to not look forward to their new work though, as there is speculation that there is progress being made on a new album (an estimated date is yet to be determined).
A listen to some of their more popular tracks is highly recommended for those wishing to explore the band and become invested in their musical legacy. If clicking through the most popular songs doesn't hit an intrinsic rhythm, don't feel bad, as that is merely surface-level Deftones. At this point, if one does not enjoy their surface level, there are doubts about whether or not one would enjoy deeper tracks, but anything is possible, so here are some great cuts I would recommend.
Some of my personal favorite Deftones songs are:
Digital Bath (White Pony)

Entombed (Koi No Yokan)

Rosemary (Koi No Yokan)

Be Quiet and Drive (Far Away) (Around the Fur)

Around the Fur (Around the Fur)

Minerva (Deftones)

Cherry Waves (Saturday Night Wrist)

Beware (Saturday Night Wrist)

Beauty School (Diamond Eyes)

Ohms (Ohms)