Stephen A. Smith: The EXCLUSIVE Interview!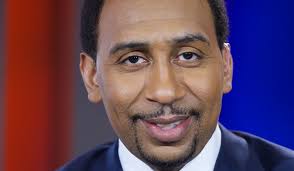 Amityville Senior, Noah Odige, landed an exclusive 25-minute phone interview with the iconic ESPN journalist, Stephen A. Smith in October. The Amityville Echo is proud to bring you his EXCLUSIVE interview.
Stephen A. Smith is one of the most provocative journalists, not only at ESPN, but in the sports media world. Having worked in the broadcasting and journalism field for over 30 years, Stephen A. Smith has not only garnered fame throughout the sports world, but he has also earned the respect of his peers as an esteemed journalist and as of 2017, a CIAA Hall of Fame inductee.
It all began with one take, one article, a controversial column in Winston-Salem State University's newspaper, in which Smith suggested that his basketball coach, Clarence Gaines should retire. "My teammates didn't matter to me," Smith said when asked about the pivotal article. "I didn't write the piece because I thought that he couldn't coach, but rather because of his health." Stephen A. Smith has been the face of an ever increasing sports genre, embrace-debate, that has taken the sports broadcasting world by storm. His daily morning show, First Take, in which he co-hosts with Max Kellerman, averages over 474,000 viewers a day. He previously hosted it with fellow analyst, Skip Bayless for twelve years. Smith referred to Skip as, "one of my best friends, my buddy 'till the end; our friendship will resonate for a lifetime."  The two analysts were especially known for their opposite feelings toward the Dallas Cowboys. Bayless being a devout fan, while Smith showed a deep disdain towards the franchise. "Make no mistake it was fun whenever the Cowboys lost, but miserable when they won. And our different views made for some great television. But in fact I don't hate the Cowboys as a franchise, but rather a genuine dislike of Cowboys fans." It was exchanges such as those with Skip as well as Smith's provocative and dour delivery of sports analysis that propelled Smith to fame in the sports world.
Smith has also garnered the reputation of being a hot take specialist. One of his more famous takes was in the 2010 off-season, in which Smith predicted that LeBron James, Chris Bosh, and Dwyane Wade would sign with the Miami Heat, furthermore being correct. As for how he feels about his reputation, "I wouldn't know. It's not something I think about to be honest. Everything I say is authentic and what I really believe." Working in a field such as journalism, Stephen A. Smith expected to be well known, but it's not all it's cracked up to be. "I knew I was going to be well known, but what I don't like is the celebrity of it. Many people think I am a mean guy but it all depends on how you approach me."
Before the fame, Stephen A. Smith endured many hardships in the journalism field, particularly at his own network, ESPN. On April 17, 2009 Smith announced on his website that he would be leaving ESPN on May 1, 2009. The Los Angeles Times reported that ESPN "decided to move in different directions." Smith then made the move to Fox Sports Radio. When asked about that pivotal time in his career, Smith remarked, "It helped me basically to grow up and learn that business is exactly that, business. Not to take any of it personally because it's not about what they can do for you, it's about what you can do for them. I grew up and moved on from it and learned the business."
Since then, Smith has returned to ESPN, and is notably one of the primary faces of the network. As for advice to aspiring journalists, he offers, "You have to love it. I always say that a true journalist never punches in. It's not a 9 to 5 job. If you don't love it and have a passion for it, it will eat you alive."
Stephen A. Smith can be seen on his morning show "First Take" airing weekdays on ESPN from 10 a.m. – 12 p.m. ET