Album Review: Tha Carter V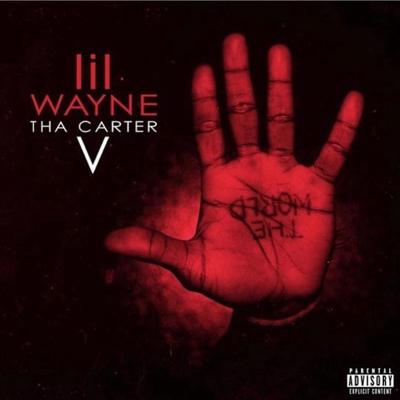 Noah Odige, Staff Reporter
December 10, 2018
Hang on for a minute...we're trying to find some more stories you might like.
The best thing about Lil Wayne's Tha Carter V is that it exists.
It finds the guy who once called himself "the best rapper alive" – and who, for a couple of years in the late 2000s, unquestionably satisfied that brag – at long last rising up out of five years of individual trials. A 2014 "Drake versus Lil Wayne" co-featuring tour out of the blue advanced the idea of an album into a strong possibility. There were reports of medical issues and frequent hospital visits that drove some to think about whether Wayne's literal death was fast approaching. Most sadly, there was an extensive legitimate question against Cash Money Records and his once tutor Bryan "Birdman" Williams, a man whom he once warmly alluded to as daddy, over the rights to at long last release Tha Carter V; their aftermath being an unpleasant, bitter separation.
Tha Carter V received positive reviews from critics, with many considering it to be his best album since Tha Carter III but criticizing its length.
At Metacritic, which assigns a normalized rating out of 100 to reviews from mainstream publications, the album received an average score of 72, based on fourteen reviews.
XXL Magazine: "The album is indeed, as much for the journey that led to its release as the previously unseen layers that Weezy reveals."
Exclaim! Magazine: "Relationships with women are at the forefront of Tha Carter V, including a desperate cry for help from his mother on "I Love You Dwayne," which leads into the sorrowful "Don't Cry," featuring a chorus from the late XXXTENTACION. … Despite the revelations, the album is not without its expected bangers."
Pitchfork:  The most surprising takeaway from Tha Carter V, it turns out, isn't that Wayne still has music this vital in him. It's that after all these years, there's still more to learn about him.
Rolling Stone: Tha Carter V can't compare to the first three Carter installments, or his epochal 2005-2007 mixtape run. But it doesn't need to.
Interestingly, Wayne isn't commonly thought of as an emotional rapper, despite the fact that his discography includes snapshots of vulnerability and pain. He sets to reassert his verbal dominance all over Tha Carter V, and fairly succeeds. For "Dedicate," a punchy notice of Wayne's impact on the face-tattooed artists of today's rockstar rappers, he grabs and disposes of different vowel sounds—oo in verse one, I in verse two—to use as supports for some see-sawing poetry. A trap sound is utilized to more noteworthy of an impact for the Travis Scott featured "Let It Fly" where nearly every word appears to rhyme with "line."
The notion of loyalty makes for the chilling focal point of the song, "Mona Lisa," which portrays Wayne as a burglar who baits his targets. It's an incredibly pessimistic elaboration on a wide range of gender tropes, and Wayne focuses on it for a five-and-a-half-minute performance. Taking the last verse is Kendrick Lamar, in a horror movie type execution, playing a man wronged by Wayne. When Lamar spits and gasps, it's somewhat in imitation of past Wayne performances, and to some degree an expansion of Lamar's most unhinged raps, and completely in administration of Wayne's bigger topic: that loyalty is often a lie.
At its best, Tha Carter V is charmingly retro, creating songs that range from pop ("Dark Side of The Moon") to party rapping ("Start This… Off Right"). "Dark Side of The Moon" is an increasingly emotional ballad which sees Wayne pairing up with the eccentric Nicki Minaj, who lends her voice in a duet that radiates vulnerability. The heavenly sound in the production of "Dark Side of the Moon" courtesy of Bloque and Jonah Christian is one of the best moments on the album. It's soft and simple, but most importantly, it guides listeners through the sonic beauty that Wayne and Nicki Minaj create together.
The more retro features of this album is best exemplified on the track "Start This…. Off Right". This song features Ashanti, Mack Maine, and Mannie Fresh. Before 2016 Fresh hadn't made a collab with Lil Wayne since Tha Carter. Although Mack Maine is Wayne's longtime friend, this track marks his first guest appearance on any of Tha Carter albums. This song is very braggadocious, and is more of a party track than the majority of tracks on Tha Carter V. According to the original track list, this song originally featured Christina Milian. This is one of the few songs saved from the first version of this album.
Although it is easy to enjoy a project after an artist hasn't released a project in a substantial amount of time, Wayne leaves much to be appreciated in the album. At the point when artists haven't released music in a substantial amount of time, they frequently try to bring crisp sounds or a refreshed style. The great thing about Tha Carter V is that Lil Wayne doesn't attempt any amusing experiments to pick up the consideration of younger generation  of people who are dependent on sounds from "the new age of rappers." Even when he's rapping over a snare beat with Travis Scott on "Let It Fly," despite everything he slaughters the beat with his very own stream. In a video posted on his YouTube page, portraying his expectation for the receipt of this album, Wayne stated, "You don't need to like it, you don't need to cherish it, simply appreciate it." With Wayne on an expressive and carefree attitude for the majority of 23 tracks, getting a great feeling out of Tha Carter V comes as no issue.
Rating: 4.5 out 5
Essential Tracks
Dedicate
Uproar ft. Swizz Beatz
Mona Lisa ft. Kendrick Lamar
Hittas
Let It All Work Out