Captain Marvel at HER Best!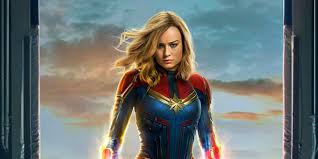 Hang on for a minute...we're trying to find some more stories you might like.
Man, I know Marvel is known for having great movies, but this one was just MARVELOUS! (Get it? :P)

"Captain Marvel" is a 2019 American superhero film based off the Marvel Comics character Carol Danvers, aka Captain Marvel. It stars actors Brie Larson as Danvers, Samuel L. Jackson as Nick Fury, and Ben Mendelsohn as Talos/Keller. The film was written and directed by Anna Boden and Ryan Fleck, with Geneva Robertson-Dworet also contributing to the screenplay. It is officially Marvel Studios' first female-led superhero film. Set in 1995, the story follows Danvers as she becomes Captain Marvel after Earth is caught in the center of a galactic conflict between two alien worlds.

Captain Marvel had its first world premiere in London on February 27, 2019, and was theatrically released in the United States on March 8, 2019, in IMAX and 3D. The film has grossed over $762 million worldwide, making it the highest-grossing film of 2019. Critics described it as "entertaining, enjoyable and savvy" and praised the performances of Larson, Jackson and Mendelsohn. Though the casting of Larson does spark some controversy on Twitter, the majority of fans can agree that this film is a wonderful time. Hooray for women!

Rotten Tomatoes: 79% Fresh
IMDb: 7.1/10
Metacritic: 64%


About the Writer
Dion Bullock, Editor
Dion is a high school senior who loves to play video games and draw cartoon-styled characters based off everything around him. He was born and has lived...