The Equal Pay Debate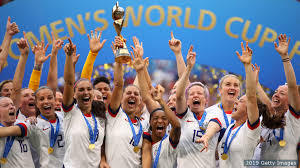 The USWNT and equal pay has been a long debate over the years. It is now going to trial in court. The United States Soccer Foundation believes that they are paid equal and enough as the men. It has created a whole division but the nation stands with the women and say they deserve equal pay. Some believe this because the amount compared is a big significant difference. For example, the average women's soccer player earned around $25,000 per game while the men would earn around $100,000 per game.
Some people are against their equal pay because they get more compensation than the men, but that's because they actually win and have been 4-time World Cup champions. The trial has brought a lot of controversy and the media has been very quick to cover every detail that comes up. Many of the women soccer players have used this platform to stand up for equal pay such as Megan Rapinoe. She is the head of this whole movement along with the rest of the USWNT. If the nation supporting the fact of equal pay isn't enough, then it's now just left for the court to make their decision and many hope that they make the right choice and give them what they deserve and that's equal pay.
This is one step forward to women standing up for themselves. The only thing we wait for now is the trial which is to be held May 5, 2020 and we will for sure by the end of 2020 have a response to this controversial debate. It's a long wait but a chance to make change for the USWNT.