Covid and the Sports World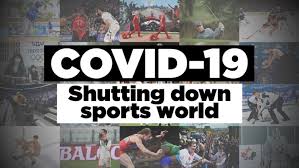 Athletes are among the thousands of people who have been affected by the coronavirus. They are also among the thousands who have tested positive for COVID-19. And yet, there are still some athletes who are trying to have fun and make the best out of their situation. It has been a major outbreak not just for the world but also the sports world with many things being cancelled and postponed. For example, the Tokyo Olympics have been postponed to the following summer in 2021. 
The NBA suspended their season indefinitely when Utah Jazz player Rudy Gobert tested positive for the coronavirus. Gobert went on to say that he apologizes for his actions because he had a press conference and touched all the mics. He realized he was putting many people, including his teammates, in danger. The NFL and the WNBA are also working around technology to make the drafts happen this year and all are scheduled for later this month in April. High schools have shut down all championships and after the pandemic are moving forward with new protocols for following seasons. 
All soccer associations around the world such as La Liga, and the Champions League have all cancelled their seasons and training indefinitely. There have also been players to bring light to the situations and make people realize that this is more serious than we think. Kevin Durant from the Brooklyn Nets announced that he is one of four players to have corona and warned everyone to stay safe and be responsible. Then you have Paulo Dybala from Juventus who's from Italy who announced he has coronavirus with his wife and are keeping themselves isolated. 
If we look at it now, so many athletes and people in general have the virus but that isn't stopping them from entertaining us. They have made challenges such as juggling a roll of toilet paper for as long as you can, or making cool trick shots like Trae Young. Some are making TikToks, like Shaq, and some even go on live and speak on life and how they are dealing with everything, such as Lebron James. Everyone as well as athletes are dealing with this whole shut down differently, but we all are just truly ready to get back out and enjoy the world and learn to appreciate every moment we have with everyone.