"Bloodshot" Film Review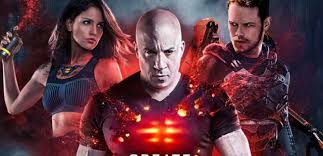 Jason Izaguirre-Rivera, Contributing Writer
June 1, 2020
This is a movie you won't forget. The film was released in March of this year. 'Bloodshot' is about how a U.S Marine dies and becomes reanimated as a technologically advanced superhuman, giving him super strength and fast healing. Little did he know that the person who killed him, also killed his wife. This motivates him to seek revenge. He can't even trust himself with the truth because he doesn't know what the truth is anymore. Luckily he has some friends that help him with that.
This movie is one of my favorites because of the use of futuristic technology and how the story-line is lined up. I also like this film because Vin Diesel stars in it and he is one of my favorite actors. For those of you who don't know, Vin Diesel has been an actor for a long time. He's in the movie 'The Pacifier' (2005), Guardians of The Galaxy (Vol.1 & 2), The Fast and Furious Franchise, which started in 2001, and so much more. His movies are great when it comes to action movies with a little bit of comedy. It's always a pleasure watching one of his movies and I can't wait for Universal Studios to release the upcoming movie, "F9: The Fast Saga" coming April 2nd, 2021. This is the postponed date because the movie was going to be originally be released on May 20th, 2020.
Bloodshot only pulls in a 30% rating on Rotten Tomatoes, and that's OK because everybody has their own opinion. Some may be good, and some may be bad, but the screenwriters can always make improvements if they ever decide to make a sequel to this movie, which I hope they do.