BTS Bids the Class of 2020 Goodbye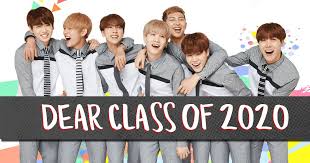 On June 7th, from 3pm to 7:34pm EST, a livestream took place on YouTube in order to congratulate the class of 2020.  "Dear Class of 2020," lasting four hours and thirty four minutes featured all types of celebrities and historical figures such as Barack and Michelle Obama, Beyoncé, Jack Black, and BTS.  BTS, the worldwide known KPOP group gave a "Commencement Speech" between 4 and 5:18pm, speaking after Alicia Keys and before Colin Jost. The seven member group gave advice to the graduating class. Each member took turns in order to inform the Class of 2020 what they learned when they graduated and their own graduating experience as well as what newfound adulthood has taught them about taking on life.
The speech started with Kim Namjoon better known as RM, speaking in English. RM, the leader of BTS, started off by referring to the livestream as "possibly the most special graduation ceremony in history," and then proceeded to tell his story about his younger self graduating.  In his brief story, he described the feeling of graduating as "thrilling and breathtaking" and told the viewers that the group is "excited for what lies ahead [of you]." In order to transition into the stories of his fellow members, he said that he hopes the following stories can give the listeners "comfort, hope, and maybe an even bit of inspiration." After RM was Jungkook, the youngest member of the group.  The 22-year-old explained that unlike others, he graduated while he was already a celebrity.  Jeon Jungkook had graduated not too long ago with the comforting presence of his bandmates.  Since his graduation was recorded and can be found on the internet, he rewatched the video and admitted that it's difficult for him to process that the boy in the video grew up to become him.  He feels he still has more to learn and wishes people will have faith in themselves and the world. 
Following Jungkook was the eldest member, Kim Seokjin (Jin).  Since his experience with graduating was before BTS's debut, he explained that "becoming an adult was quite scary" and "anxious about making [my] way into an unfamiliar world.  I was cautious of everything I said or did".  Comparing himself to his other friends, he realized that their pace in life was too fast for him and he could not keep up.  Therefore, he told the Class of 2020 to go about life at their own pace. 
Min Yoongi (Suga) then took over and confessed that these times are difficult and that these days it's hard to be hopeful.  Still, it is important to focus on oneself and to push one's own limits. Suga said that one person alone is capable of big dreams and much more and that in order to move forward and to progress, people must let go of what's out of their hands.  The next member, Park Jimin, agreed that these times are trying and that he fears for the well-being of others.  However, he switched gears by saying that no one should give up and that even in the darkest of times, at least remember that he understands. He wished strength upon the viewer and for them to remember "it's okay." 
Jung Hoseok (J-Hope) or "your hope" picked up where Jimin left off and said that he's just like everyone else, that he too feels he has reached a "dead end".  Then he said not to give up and that there is improvement with each attempt.  He reminded the watcher, "you are the leader of your own life" and to tell themselves they "can do it better than anybody."  
Last but not least is V, Kim Taehyung.  He started off by saying that everyone is "at war with reality." Yet, he reminded those listening to remember this day in whatever way they can. Getting more personal, he admitted that he wasn't born with certain talents but developed passions for singing and dancing.  That's what drove him to success. With that, he says to "listen to your heart". 
Finally, to finish things off, Kim Namjoon spoke again.  Once again, he reminded the Class of 2020 that even though they are worldwide celebrities, they are still human beings, and therefore, like any other adults in their twenties. In his words it was still as though their "graduation caps still pressed to their heads and awkwardly peering into the face of reality."  He explained that during these unfortunate times, throughout feelings of "anxiety" and "loss" there is still "a moment of realization of the self.  The realization of what makes me a true me, myself."  Namjoon finished off by saying he knows "your future will bloom to something much bigger and magnificent." All in all, the group congratulated the Class of 2020 and hoped their stories and advice helped during this difficult time.
About the Writer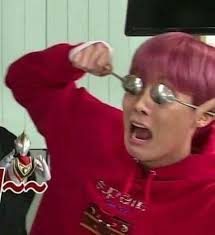 Viviana Rivera, Staff Reporter, Features Editor
Viviana is a senior whose passions include, reading, writing, music, and art. She's only been a part of the Amityville district since the beginning of...