The Lost Bluebird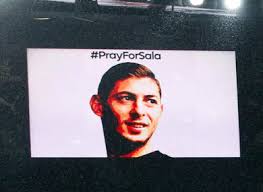 Carlos Ponce, Contributing Reporter
February 2, 2019
Hang on for a minute...we're trying to find some more stories you might like.
On Tuesday, January 22nd, tragic news hit soccer fans across the world. Argentinian player, Emiliano Sala was announced missing after a plane he appeared to be on vanished and never arrived to its destination of Cardiff, United Kingdom. Before all this, Sala had been bought by Premier League club Cardiff City from his current team of Nantes (located in Nantes, France) for a club record transfer fee of an estimated $19.3 million American dollars. The contract would keep him at the club for three and a half-years. After the exciting news the Argentine then traveled to Cardiff to complete his medical. Sala would then travel back to Nantes to pack up the rest of his belongings. After finally packing up he went to the FC Nantes training ground for one last time before heading to the airport. According to ESPN.com Sala boarded a small private plane with English pilot David Ibbotson. At around 7:15 pm the plane took off to Cardiff. Its location then disappeared from the radar at around 8:30 p.m. Since then authorities have searched the waters of the English Channel. Planes joined the search, and lifeboats went out. Despite the high winds and choppy seas the authorities searched until until 2 a.m. Beneath heavy clouds and a darkened moon, everyone scouted the murky waters, looking for any sign of the plane or a life raft or anything. They found nothing. On January 24th, the official search operation was called off by Captain David Barker. "The chances of survival at this stage are extremely remote," according to Baker. Currently as of Sunday, February 3rd a private investigation has begun to search for Sala and the pilot. The search team is led by marine scientist David Mearns, who claims to have located 24 shipwrecks in his career. This private investigation group has been funded by Sala's family in desperate need of getting their loved one back home. Before the horrifying crash a WhatsApp message was found left from Sala. These were the final words of the Argentine before the crash…
"Hello, little brothers, how are you?" Brother, I'm dead, I was here in Nantes doing things, things, things, things and things, and it does not finish anymore. I'm here on top of the plane that looks like it's about to fall apart, and I'm going to Cardiff, crazy, tomorrow we already started, and in the afternoon we start training, boys, in my new team. So, how are you brothers and sisters, all right? If in an hour and a half they do not have any news of mine, I do not know if they are going to send someone to look for me because they can not find me, but you know … Dad, how scared I am!"
As the private search is going on, football fans across the globe will be praying for Emiliano Sala to be found and brought back to his beloved ones and the soccer community. May this lost bluebird be in peace.